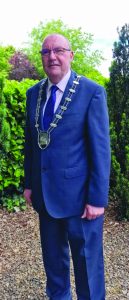 Local representative, Councillor Francis Foley, has been unanimously elected to the Mayoral role of Limerick City and County, the second Abbeyfeale man to hold the position in recent years.
He was proposed by Councillor Michael Collins and seconded by Councillor Bridie Collins during the meeting of the Council last week. The election of a new Mayor for Limerick was deferred for one week following the sudden death of the mayor's party colleague Jerry O'Dea.
Fianna Fáil also took the position of Deputy Mayor, with Cllr Kieran O'Hanlon being elected.
Francis comes from a very popular Abbeyfeale family who is much respected within the community. He has been involved in his locality and all aspects of the community for many years. His popularity is evident in every local election. He is a hard-working, diligent family man who works tirelessly for his community.
I caught up with Francis on Sunday last, when he and his wife Helen supported the Tournafulla and District Vintage Club Run in the local GAA field. They were coming from a commeration ceremony in Limerick city.
He spoke to me about his new role. "I am delighted to have become Mayor but obviously it was bittersweet for me with the untimely passing of my colleague Jerry O Dea   RIP. I was to become Jerry's Deputy Mayor." I asked him about his interest in politics and where it began.
"I became interested in politics at an early age. I went to my first Fianna Fáil meeting with my father at the age of fourteen at Tom Tobin's Hall and that's where that I got my first taste for politics, and I enjoyed the buzz. I learned the trade from former Cllr Michael O'Kelly, Gerard Collins, and Mike Joe Collins so I had the best in the business. My Grandfather and my father were always big Collins supporters and had a long history of being in Fianna Fáil. I have been a member of Fianna Fáil for as long as I can remember. I was first elected to the old Limerick County Council in 2004 and have been returned ever since". Speaking of his younger life, he said
"I left school at 15 years of age and went to work as you did in those days to contribute to the family home. And I think that I have shown that you don't have to be a high academic achiever to make a difference.
Being a local Cllr is challenging but very rewarding. As part of your job, you must deal with local and national issues?
Housing is one of the most pressing and important items on my agenda as Mayor.
As a Council between now and 2026 we have been tasked to deliver 2,500 new homes. The Council must also handle the level of vacant homes in its possession and put a programme in place to bring them back into use and tenanted as soon as possible.
Since being elected to the council it has been a pleasure for me to represent the entire Newcastle West district and I intend to continue to do that as well the entire city and county as Mayor.
I have been very fortunate that my employers Tadgh O'Connor Ltd have allowed me time off work to fulfil my role as Mayor.
A career as a public representative isn't possible without the help of many people and organisations. Firstly, my wife Helen and my two sons Kevin and Jason have fully supported me all through my years as a public rep. Also, my mother has been a big influence on me she became a widow at 42 and reared a family of seven on her own and I must also mention my four brothers and my two sisters who have always been there for me."
We wish Francis every success in his new role, and no doubt he will achieve all he sets out to do.