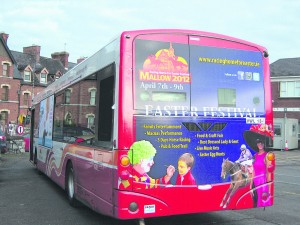 A major marketing campaign by the Racing Home for Easter Festival kicked off this week with colourful billboards erected on the Cork and Killarney sides of Mallow Railway Bridge, at Merchant's Quay, Tivoli and on the Lower Glan-mire Road in Cork city as well as Heuston Station in Dublin and on the 205 Cork city bus route. The campaign officially marks the countdown to the Easter Bank Holiday weekend.
Festival chairperson Mary Kelly says promotion was the name of the game for 2012. "We need to get the message out there that Mallow is the only place to be this Easter. Despite the fact that the committee have full time jobs to maintain, they have been working tirelessly to ensure that this year's festival is our biggest and best yet. Thanks to funding from Cork County Council to be spent on local marketing, we were able to embark on this campaign, where people can be left in no doubt that Mallow is hosting an amazing 3 day festival this Easter."
An even more local advertising campaign is underway as preparations are underway for the Racing Home for Easter Festival's float which will be partaking in this year's St Patrick's Day Parades in Mallow and Fermoy. Mary says, "St Patrick's Day marks the start of the bank holiday season and as the next coincides with the Easter Festival, we want to make sure that the people of Mallow, Fermoy and North Cork know that they have something else to look forward to in just a few weeks time. Just like the festival, we think the float will take people by surprise and we've heard talk of a massive horse's head being crafted by Darran Forde, who alongside Deirdre Foley, has put hours into what we think will be a stand-out float on St. Patrick's Day".
Pat O'Sullivan of the sponsorship committee says, "It's been a good week on the sponsorship front, word about our festival is really spreading and we are delighted that Hidden Hearing, the country's largest hearing healthcare provider is now supporting the festival."
Dolores Madden, mar-keting manager of Hidden Hearing says "The festival is a fantastic initiative aimed at encouraging those who grew up in the Blackwater Valley region to return home for Easter and enjoy all the festivities. Hidden Hearing also has strong links with Cork with its Marketing Department based in Cork city and a number of hearing health clinics in Cork and Mallow."
Dolores says, "We are proud to be supporting the Racing Home for Easter festival, which is an inspirational concept to encourage people who may have moved away to come back to their homeplace over Easter, catch up with family and friends and support local businesses. Ireland will get back on its feet through initiatives such as this and Mallow and North Cork will receive a great boost over Easter as a result of the growth in visitors. Hidden Hearing is proud to play our part in it." For more information on Hidden Hearing's 65 branches nationwide, contact hiddenhearing,ie.
Festival partners to date: Fáilte Ireland, Irish Rail, Cork County Council, Mallow Town Council, Cork Racecourse Mallow, Mallow Star/Vale Star, C103, Dairygold, Avon-dhu/Blackwater Partnership Ltd, Hibernian Hotel, Mallow Vintners, Luna Bella Boutique, TR Southern Fasteners, Mallow Print, Fitzpatrick's Jewellers, Knight's Spar, Carry Out off licence and Amber Oil and the Mallow Primary Healthcare Centre.
Festival friends: Mallow Chamber, Thermosafe Brands Europe Ltd, McDonalds, Aunty Nellie's Sweet Shop, Dano's Cen-tra, Mallow Credit Union, North Cork Enterprise Board, Blackwater Valley Tourism, ITW Hi-Cone, Kostal, Bank of Ireland, AIB, Country Lifestyle , Dermot Casey Tree Care and Tool Hire, Luceys Good Food Shop, Longueville House Hotel, Park West Flowers, EPS Ltd, Padre Pio Nursing Home, QiFA Financial, Springfort Hall Hotel and Springfort Hall Shop and Cafe, Supermacs, Crafted Fitted Furniture, Kiely's Car Sales, O'Connell's Funeral Home, Mallow Development Partnership, Mallow Art Alliance, RAPID, Lyons Shoe Shop, Barry's Tools, Stunners Hair Salon, Susan Brennan/Head First Hat Hire, Spiralli Business Solutions, Foley's Supermarket, Profectus Coaching, Ballyhass Lakes, Apache Pizza, Food Capers, Peppers Restaurant, La Scala Italian Restaurant, Bella Café Restaurant, Minister Sean Sherlock, Tom Barry TD, Mallow Golf Club, Hidden Hear-ing, O'Flynn's Footwear, Barry's Tools, Little Rascals, An Excellent Choice caterers, Mallow Late Night Pharmacy, Cork Advertiser, Munster Flooring and Bohan's Boutique.