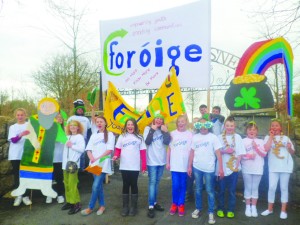 The countdown is on to one of the country's most heart-warming and intimate literary festivals, Éigse Michael Hartnett, which takes place this year from Thursday, April 25th to Saturday, April 27th in Newcastle West.
Established following the death of the poet Michael Hartnett in 1999 to celebrate his life and work, Éigse Michael Hartnett aims to combine poetry and music, drama and dance, intellectual rigour and fun, and to create a feel-good festival which will leave visitors and participants alike with warm memories and a desire to return.
 Hosted in venues throughout the town of Newcastle West, the festival programme has been created to appeal to a wide audience, offering something for the mind, the soul and more than enough to put a smile on anyone's face.
Headline acts this year include internationally acclaimed Yorkshire poet, Tony Harrison, artist Robert Ballagh, singer Julie Feeney and author and poet Dermot Healy while the keynote opening address will be delivered by the director general of RTE, Noel Curran.
 Mr Curran will speak on the theme "Public Media and Public Discourse- where to now?" a subject which is very topical and one which has proven to be controversial.
 Tony Harrison is one of Britain's major literary figures and has won numerous awards for his work including the European Prize for Literature in 2011. He will be teamed up with one of Ireland's most unique singer/songwriters Julie Feeney in an imaginative and magical combination for an evening intriguingly titled 'Bright Night of Two Moons'
 Artist and social activist Robert Ballagh will deliver this year's Michael Hartnett Memorial lecture on Words and Pictures while the poet and author Dermot Healy will feature in an evening of poetry, dancing and music with sean-nos dancer Seosamh O Neachtain and Harry Bradley on flute.
 Book launches are a feature of all literary festivals and this year, the Éigse committee is delighted to announce the launch of an important new anthology. "I live in Michael Hartnett" brings together over 70 contemporary poets in a book which celebrates Michael Hartnett's stature as a poet. Edited by James Lawlor, the anthology includes contributions from Seamus Heaney, Hartnett's great friend Paul Durcan, Eavan Boland, Michael Long-ley, Theo Dorgan and many more.  Poet Paula Meehan, who is also a contributor, will launch "I live in Michael Hartnett" and this will be followed by an open mic session involving many of the featured poets.  Sculptor and poet Cliodhna Cussen will also help launch a collection, as Gaeilge,  Macalla Maidu by local poet Mike Mac Domhnaill.
Pat Kinevane's play Silent will be staged during the festival while Spoken Dance, Co Limerick's integrated contemporary dance company will give a number of performances.In addition, the Abbot of Glenstal, author, priest and philosopher Br Mark Patrick Hederman will launch an exhibition of paintings by artist Gerry Carew as part of the festival programme.
A great many of the Éigse Michael Hartnett events are free and none costs more than €10. Full details of the programme are available on www.eigsemichaelhartnett.ie