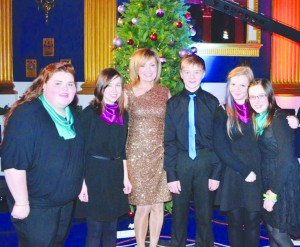 The week prior to Christmas in Nagle Rice was incredibly busy, with students excitedly preparing for Christmas in a number of creative and caring ways.
Transition Year students were busy icing Christmas cakes for the annual TY Christmas Cake Decorating Contest, as well as organising a Cheerio's Breakfast Club for the other students in the school to raise money for Childline.
Leaving Cert students continued the unique tradition of the 'Turf Run'. This long-standing tradition, funded by the students themselves, dates back almost 40 years in the school.  It originally began with students bringing some turf and a Christmas card to the elderly people of the area. In more recent times, it involves bringing bails of briquettes, little Christmas trees and Christmas cards made by the students themselves, as they visit the elderly in the area.  Both students and the more mature folk of the Doneraile area really look forward to this activity, with the students in particular really enjoying the chat and the overall experience.
The Doneraile Youth Choir, in conjunction with the Music Department and the Student Council, prepared a special Christmas Concert on the final day of term and were joined by other talented performers from the school.  The choir were also featured on RTÉ's 'Carols from the Castle' concert at Christmas time, and all at Nagle Rice were extremely proud of the 16 members of the choir who formed part of the Teen SpiriT choir for the occasion and of the professional and enthusiastic way they conducted themselves throughout the performance. 
The Student Council were busy as always organising a number of Christmas-themed activities throughout the week, including a Guess the Christmas Lyrics quiz, a St Vincent de Paul Food Appeal, a fundraising raffle and a competition on the final day of school for Best-Dressed in a red/green themed non-uniform day.