Croom G.A.A. and Croom Development Association launched Cromadh Abú in the national school last Friday. A huge crowd attended and some failed to gain entrance.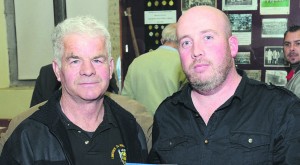 The book launch coincided with the unveiling of the Jack Breen G.A.A. Collection in Croom Museum which is housed in the local National School. This collection of Croom antiquities was very well received and aroused huge interest. The collection is now available to the public for viewing. Mary McDonnell, the School Principal, welcomed the museum to her school and spoke in glowing terms of the contributions from various sources and of the Breen family who made their collection available for public viewing.
Pat Fitzgerald, Secretary of the Munster Council, launched the 500 page history. This book covers not only the history of Gaelic games in Croom but includes many historical studies of the social life of the district. Thirty four chapters make this book a must for past and present residents and it has been well received by all.
Pat in his address gave praise to the author Harry Greensmyth and to Johnny Fitzgerald for his wonderful photographic contribution. He also paid tribute to the committee who assisted Harry and Johnny and at the same time praised Croom G.A.A. for their long and distinguished service to the G.A.A.
Among the distinguished guests who spoke at the book launch were Michael McDonnell, Assistant County Board Treasurer, John Galvin, Croom G.A.A. Chairman, Fr. Joe Kennedy PP, Sr. Catherine Breen, Oliver Mann, Vice Chairman of the County Board, Pat Fitzgerald MCC, Johnny Fitzgerald, club PRO and Elaine Butler on behalf of Croom Development.
Cromadh Abú, gleanings from the history of Croom parish incorporating the story of its Gaelic games, is a very important work. It will be on public sale in time for Christmas.