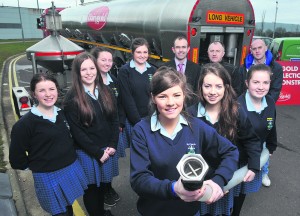 Over 300 second level female students from across north Cork attended a special event aimed at promoting greater female participation in Science, Technology, Engineering and Maths (STEM). The event was hosted by Dairygold as part of a county-wide initiative under the banner 'I WISH' which aims to address the issues that female students, their parents and teachers face when it comes to choosing subjects and making third level course choices. The title refers to that sentiment so often heard expressed in hindsight – "I wish I knew more about the opport-unities for women."
Some 15 companies from across the Munster region hosted demonstration stands at the Mallow event.These companies repres-ented a cross section of business type from multinational to start-up and a variety of industry sectors. Female employees working in STEM roles within those companies also participated in a panel discussion with the students providing useful real-life experiences and answers to the many questions raised by the schools.
Launching the event in Mallow GAA Complex, Minister for State at the Department of Foreign Affairs, Sean Sherlock T.D. said; "There is a huge variety of exciting roles for female students in the world of science, tech-nology, engineering and maths, and it is important that we do all we can to show students that they can pursue very fulfilling and interesting roles in those areas. So it is fantastic that Dairygold along with other local companies gave of their time today to explain to our young students the options open to them in these areas."
Speaking about the event Dairygold Chief Executive, Jim Woulfe said; "Today we had fifteen companies from across the region who would like to see more young women applying for jobs in the technical areas in which they are re-cruiting. Indeed Dairygold itself is an expanding business and will have a greater requirement for STEM graduates for roles like food and agri scientists, food technologists, computer scientists and engineers. So today was a great opportunity, not only for these young students to get inspiration and advice but for us the employers to encourage more of them to think about jobs in those areas."
The brainchild of a number of female business leaders in Cork, 'I Wish' is being spearheaded by Gillian Keating, President of Cork Chamber, Caroline O'Driscoll, it@cork Vice Chair and Ruth Buckley, Head of IT at Cork City Council with support from academia and industry.  Dairygold proudly supported the 'I Wish' initiative in North Cork.