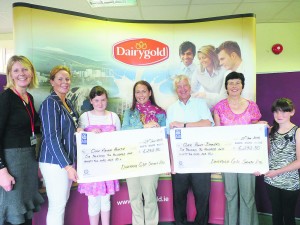 Dairygold staff presented two local charities with cheques last week following the co-op's inaugural annual charity walk/run in Doneraile Park. Over two hundred Dairygold staff, families and friends of all ages turned out in force to participate in the 5km walk/10km run in aid of local charities the Cork Penny Dinners and Cork Mental Health. The Dairygold Charity Event Committee was tasked with selecting the charities and organising the event and they were delighted with the support and success of the initiative. The event raised a total of €12,585.  Plans are already underway for next year's event.
Cork Penny Dinners is one of Cork's oldest caring organisations. Its aim is to give everyone who calls to the Centre a hot nourishing midday meal and sandwiches and fruit to take away as an evening meal. The Centre also serves as a social centre for clients who avail of their services.
Cork Mental Health promotes positive mental health. It creates awareness and understanding of mental health and illness and actively supports and empowers people with mental illness. It delivers awareness raising activities aimed at challenging discrimination and stigma and also actively supports and empowers people with mental health difficulties through the promotion and provision of high quality housing services.