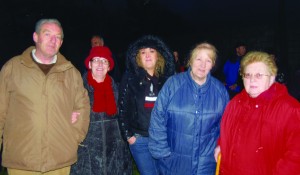 'You are entering a long abandoned Famine graveyard' read the commemorative plaque as the early morning worshippers assembled at Rathkeale's Famine graveyard on Easter Sunday for Mass at dawn.  Torchlight and candles guided the faithful to the recently constructed altar midst daffodils and the last remaining pine nuts of Autumn. The peace of the night was disturbed as a female's voice floated over the graveyard as though to awaken the deceased to join in the joyous celebration of the Risen Christ. One felt as if the gentle morning breeze through the tall pines and bare ash trees was the deceased's refrain to say that indeed they were in communion with this gathering and showering it with their gratitude.
The presiding priest's encouragement to cherish the Mass and never lose the faith echoed gently round the modest burial ground while a chorus of birds volunteered a musical background of majestic proportions.  A frightened rabbit scampered midst the simple grave markers while native pheasants announced a new day had dawned.
Night's darkness was broken by the ascending rays of light radiating from a small well contained fire.  Symbolic of the fire of our faith lit on Tara's Hill it yielded pride of place to the light of dawn which broke slowly but majestically on a prayerful and tranquil setting.
As one's mind pondered the Irish psyche and its strong associations of hunger, emigration and loneliness with the Great Famine, it was impossible to ignore the ripple of  water from nearby Dohyle Lough as it made its way onward to the Shannon estuary.  It reminded the writer of the present economic realities which are pushing the cream of Irish youth once again into a new tidal wave of emigration and loneliness.
The words of Miss Jane Francesca Elgee (1821-1896), mother of Oscar Wilde, on display beside the ancient Celtic Cross in the graveyard have a chilling ring as they call out: "our children swoon before us, and we cannot give them bread."
It has seemed a noble gesture that this gathering which had come to celebrate the liturgy of the resurrection of Our Lord on Easter Sunday morning should have done so in this once abandoned graveyard.  The occasion ended in a relaxed and convivial atmosphere as hot beverages were served in the midst of  good conversation on a cloudy but pleasant Easter morning.
A final glance at the entrance plaque echoed the sentiment of the occasion to perfection as it spoke about the deceased as follows: "May they feel the warmth of a tear!
May they hear the pipers lament,
May they know we, the survivors keep vigil."