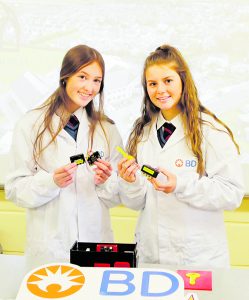 Desmond College in Newcastle West has been unveiled as the overall €10,000 winner at the 2021 STEM (Science Technology Engineering Maths) Regional Star Awards. The winners shone with their project 'Exercise is the Key' which was submitted by transition year students Emma Brennan and Aoife Lee. The pair looked at the issue of teenage obesity and the connection between lack of exercise and the rapid increase in the amount of screen time among Irish teenagers, and they developed a device that positively rewards exercise with screen time using a modified power adaptor.
One runner-up prize of €5,000 was awarded to Salesian Secondary College Pallaskenry's Niamh O'Connor, who looked at the topic of 'Dealing With the Daily Challenges Posed by Living With Cerebral Palsy.' She developed a prototype concept called EazyFlex, a glove with an in-built ball that would allow the wearer to exercise their hand muscles by inflating and deflating the ball through Bluetooth and a mobile app.
A special commendation prize of €1,000 was awarded to a project from Gaelcholáiste Uí Chonbá, Newcastle West, that showcased the develop-ment of an electronically adapted fork to simulate the taste of salt, thus reducing the need for salt in diets to improve health.
Pupils from each of the schools beat off competition from across Limerick and Clare in showing step-by-step how they firstly identified an issue and then, through research, testing and learning, how they could solve it using what they learn in STEM subjects. Sponsor and engineer Padraig Fitzgerald of Askeaton, who chaired the judging panel, said: "All of the students were able to clearly show how the STEM subjects they study in school have given them skills to solve real-life health problems. This is exactly why Ireland has such a strong reputation in research and innovation.
"Despite the restrictions around the pandemic in the last year, we saw a huge degree of curiosity, teamwork, innovation and resourcefulness in the entries," he said.
Separately, Brian O'Callaghan, a Leaving Certificate student at Hazelwood College in Dromcollogher, will represent Ireland at the 2021 Chemistry Olympiad, to be hosted (virtually) by Japan in July.