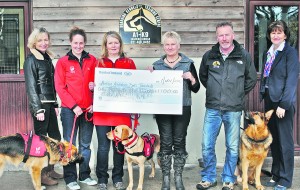 A weekend-long dog training expo has raised over €1000 for Mallow's Autism Assistance Dogs Ireland charity. Organised by Martin and Brigitte Noonan, 'AI-K9 Unl-eashed' focussed speci-fically on various types of professional dog training, from assistance dogs to Garda dogs. AADI's Training Service Manager Nuala Geraghty says, "The event gave the charity an amazing opportunity to show the public exactly what goes into the training of a dog for a specific role as an assistance dog. Not every type of dog is suitable and the needs of the child the dog will eventually be placed with must also be factored into the training process".
As well as being presented with a cheque for €1100 by AI-K9's Martin and Brigitte Noonan, AADI was also given a 2 week-long family holiday in dog friendly accommodation to raffle or auction to help the charity raise further funding for their vital work, by Colette Forde, Director of Keycamp Holidays, main sponsor of the event. "Keycamp Holidays know that dogs are like another member of the family", says Collette, "And we hope that the holiday will be a well deserved treat for a dog lover".
"We can't do anything for families with children dealing with autism without the ongoing generous support of the public and the team at A1-K9 Boarding Kennels", says Nuala. "It costs €15,000 to train an assistance dog, and with no government funding, fundraising and donations really make a huge difference to help the charity cover the cost of food, vet bills and housing during the training process".
As the festive season approaches, the charity's 2013 calendar and Christ-mas cards are now on sale through the charity stores in Mallow and Clonmel and at various shopping centres through-out December.
For further information you can contact AADI on 022 43851 or join AADI on Facebook/ follow them on Twitter @autismdogsirl