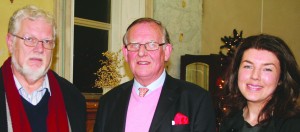 Another step in establishing Doneraile as one of the country's leading centres of antiques was taken last Thursday evening with the official launching of a restoration course in the town. The launch fittingly took place in the Presentation Convent Chapel, one of the many fine old buildings in the area and it is here that up to 20 participants will take the course.
The course which is being organised by Ballyhoura Development and Fas in conjunction with Doneraile Development Association will offer full time training in antique and furniture restoration and will be certified and lead to a nationally recognised major FETAC Level 5 award.
Among those present last Thursday evening were Minister of State for Research and Innovation, Seán Sherlock, TD, television personality and President of the Irish Antique Dealers Association, George Stacpoole, John Walsh, Chairman, Ballyhoura Development, James Fogarty Northern Division Manager, Cork County Council, members of Doneraile Development Association and course participants.
The Presentation Convent was purchased by Emyvale Construction on its closure some years ago and while most of the building and site has been redeveloped, the Chapel is still standing in its original state. Willie Pat Hallihan, chairman of Doneraile Development Association, thanked the developers John and Margaret O'Flynn of Emyvale, who were present, for leasing the building. "It is the last remaining vestige of the Presentation sisters," Mr. Hallihan stated. "When we were considering what course that we would run, we decided that it should reflect on what was happening in Doneraile, hence an antique and restoration course."
Going on to say that the Development Association drew inspiration from the work of the local Tidy Towns group, Mr. Hallihan said "our aim is to improve the fabric of life in Doneraile." He acknowledged the work of Ballyhoura Development, Cork County Council and FAS.
Minister Sherlock, Mr. Stacpoole, John Walsh and James Fogarty all addressed the gathering.
Minister of State Seán Sherlock, described it as a very worthwhile initiative and wished the participants every success. "The members of Doneraile Development Association are working really hard to put Doneraile on the map nationally. It is very encouraging and our job now as public representatives will be to support the continuation of this initiative and the individual participants on the training programme," the minister said.