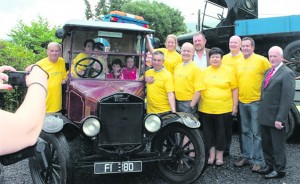 A marriage made in heaven! The combination of the charity group Drive to Survive Ireland and the traditional Irish music summer school Éigse Eatharlaí made for one of the most musical fundraising events last Sunday morning at Tigh Roy Ionad Cultúrtha outside the village of Galbally. At this unique coffee morning all guest musicians, singers and dancers taking part in the summer school freely gave of their time to help raise funds for Drive to Survive Ireland. The music performed by our most respected traditional Irish musicians including TG4's young singer of the year, Nell Ní Chróinín was only matched by the sheer range of confectionary on offer. A special thanks to all who contributed so generously. An added treat to the coffee morning was the opportunity to view the two Model T Ford trucks which were on display in the Tigh Roy car park and drew a large crowd. Chairperson of Drive to Survive Ireland, Dan Gallahue addressed the assembled crowd, giving details of the upcoming charity drive around Ireland on August 9th-15th (www.drivetosurviveireland.ie), fundraising for local hospices.
An important appeal! When the charity drive is completed and the entourage makes its way back to Ballylanders (in time for the Ballylanders Pattern Festival) we need you to make this a memorable occasion by turning up and supporting us with our novel balloon release. Balloons can be purchased in advance from Drive to Survive Ireland committee members or email info@gallahuesgarage.com to put in your order, or you can phone Dan Gallahue directly at 086-2549014. Balloons are being sold at cost value, €1 each. It's only with your support that this will be a complete success.
Tonight, Thursday, August 1st at 8.30pm, the final meeting of Drive to Survive Ireland will take place in Gallahue's Bar, Ballylanders. It's never too late to volunteer, and remember we need you to make it happen!