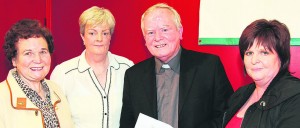 A huge crowd packed into St. Bartholomew's Church Dromcollogher last Thursday evening for a special Mass to mark the retirement of the Parish Priest of Dromcollogher-Broadford, Dr. Canon James Ambrose after 25 year's ministering in the parish. Canon Ambrose, a native of Newcastle West was appointed to succeed Canon John Liston in the parish in 1986.
A hugely popular figure during his quarter of a century of ministry in the parish, the church was full to overflowing half an hour before the Mass commenced at 7.30 p.m. At the outset Canon Ambrose thanked everybody on behalf of his family and himself. "There is sadness in parting but I do so with treasured memories of my time here," he said.
During Mass, Canon Ambrose was joined by ten concelebrants including Rev. Monsignor Daniel Neenan, Rev. Canon Frank Duhig and Rev. Frs. Jack Heffernan, Tim Curtin, Padráig Keogh, Michael Wall, Edwin Irwin, Peadar De Burca, Sean O'Longaigh and Brendan Murphy.
The local choir sang in Irish and English during Mass while the readings were read by Srs, Helen and Bridie from the local Day Care Centre. In his homily Canon Ambrose said "Twenty-five years is a large portion of one's life to be ministering in the same parish and leaves a lasting impression amongst the hardworking, loving and caring people of Drom-collogher-Broadford. You are a grateful and caring people, grateful for the blessings handed down, caring for family, neighbours and friends," he said. He went on, "You are people of vision providing for the future needs of family and community, a parish that has given so many fine people to the religious life at home and abroad." He concluded by thanking everybody for making his 25 years in the parish so happy.
The Prayers of the Faithful were read by Ita Butler, Dan Dwane, Kathleen Barry, Anne Lordan, John Cregan, Anne Marie Molyneaux and Seamus Stack. At the Offertory, gifts symbolising Canon Ambrose's life and his ministry in the parish were brought to the altar. Eileen Twomey, Principal of Scoil Naomh Iosef, Dromcollogher was the narrator as Fr Curtin brought his breviary to the altar. Mary Hartnett and Kitty Duggan, sacristans at Dromcollogher and Broadford churches brought the church bell, Brendan Bourke, Principal of Hazelwood College carried the constitution of the Board of Management of which Canon Ambrose was chairperson. Sarah Enright brought the mission statement of Scoil Naomh Iosef, which Canon Ambrose was also chair-person of, Denis O'Carroll carried a hurley and football, symbols of the retiring Parish Priest's love of sport. Patrick Duggan brought a handball from Broadford Handball Club, David Condon of Hazelville, St, Joseph's Foundation brought the bread while Nellie Noonan from the Credit Union and Housing Association carried the wine.
At the end of Mass, Seamus Stack asked all the altar servers present to make a presentation to Canon Ambrose on behalf of the entire community. Paying tribute to the Canon before the presentation, Mr. Stack said: "We were told 25 years ago when you were coming that we were getting the cream of the diocese and you certainly proved that statement to be correct. And so your parishioners of Dromcollogher-Broadford and indeed further afield are gathered here tonight to express the most sincere gratitude and to demonstrate what you have meant to us and also to lament your retirement at this particular time. We are and will be eternally grateful to you for your humility, wisdom, leadership, compassion and generosity of mind and spirit. Your presence, kind words, gentle smile and undemanding ways gives comfort to all of us. Families have been blessed to have your support and most accommodating ways from the cradle to the grave. In the quiet of the long nights when our loved ones slipped away, you had been with us. Despite challenges twice visited upon you, your strength of character shone through as you continued your day to day pastoral duties. Together with your pastoral duties, your interest and encouragement in all parish related activities has been a positive influence to all concerned and I refer to your constant encourage-ment for education, sport, care facilities for young and old, business and of course we are so proud of our church which has been completely refurbished during your watch. As a community, we were often in awe of your turn of phrase in both languages which could deal with everyone from the newly baptised baby to the various dignitaries and heads of state which you so often welcomed on our behalf."
A Celtic scroll was present-ed to Canon Ambrose and as Mr. Stack explained, "We are bearing in mind your sense of place in history. This scroll was crafted by a Newcastle West man Tim O'Neill who also crafted the scroll from the Irish people to the President of America during his recent Irish visit." Mr. Stack then went on to read a letter explaining the significance of the scroll.
Because of his love of nature, Canon Ambrose was then asked by Seamus Stack to plant a tree in the church grounds. "It will be symbolic of all you have sewn in the community and it is a hazel tree which is synonymous with the parish".
A moving tribute was also paid to the retiring Canon by Helen Hartnett.
The new parish priest of Dromcollogher-Broadford is Fr. Frank O'Dea. A native of Bulgaden, he moves to the parish from Corpus Christi, Moyross where he has ministered for the last eight years.