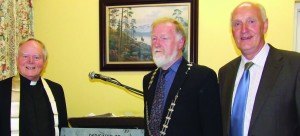 The Dromcollogher Community was in celebratory spirit on Friday night as it marked the official reopening of its recently extended Daycare Centre which they dedicated to recently retired Parish Priest Canon Ambrose and his contribution and work in the community during his twenty five year ministry in the West Limerick village.
The evening's celebration began with a special thanksgiving mass, which was attended by hundreds of locals along with family, friends and fellow priests of Canon Ambrose. Locals paid tribute to the parish priest before retiring to the local daycare center for the official launch which was officiated by Tom Madigan, chairman of West Limerick Resour-ces, the local development company that provided a grant of €29,000 towards the new extension. Following a special blessing by Canon Ambrose, Mr. Madigan paid tribute to the local community for its vision and hard work which has seen the construction of one of Ireland's first daycare centers in 1996, along with the development of a 20 bed respite center and 56 voluntary/social housing units.
Guests were afforded the opportunity of touring the new extension which is well-appointed with furniture donated by Canon Ambrose, before enjoying refreshments and musical entertain-ment. Laid out in a traditional fashion, the comfortable new extension even features a mock loft bedroom which adds a character feature to the new recreation room. The new extension also includes new storage space to help cater for the increasing numbers of users which the centre caters for on a weekly basis.
Dromcollogher Daycare Centre is managed by a voluntary committee and run on a day to day basis by two nuns from the Poor Servants of God order with the assistance of a FAS scheme. Open three days a week, it offers meals, entertain-ment and a variety of social activities to older people often living alone and in isolated areas in the surrounding West Limerick – North Cork hinterland. The center also offers a transport service to and from the center when required and is a winner of a National AIB Better Ireland Award. Their recent development is a 560sq meter extension which cost just under €40,000 and was financed through a combination of Rural Development Programme grant of €29,000 from West Limerick Resources and local fundraising efforts.