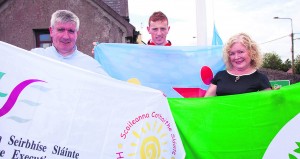 Congratulations to every-body involved in the hoisting of 3 flags in the school last Tuesday. The sun shone down on the proceedings and it was a lovely day. The day start-ed with a lovely open air Mass celebrated by Fr. Eugene Baker. This was a Mass of thanksgiving for the success and achieve-ments of the school during the year.
The chairperson of the Board of Management, Billy Tynan, welcomed the crowd and congrat-ulated the pupils and staff. The pupils entertained everybody with a series of dances led by 'Dancing Derek'. The principal in her speech gave an account of the work that led to the awarding of the 3 flags to the school and congratulated everybody.
The 3 flags were then hoisted by Mrs. Kathleen Drinan, Fr. Eugene Baker and Jamie Coughlan who were the invited celeb-rities for the occasion. This was followed by light refreshments for all.
We want to thank the Parents' Association and all our parents who prov-ided a wonderful selection of cakes and finger food for the occasion. A surprise visit by the ice cream van was greeted with a loud cheer by the pupils.