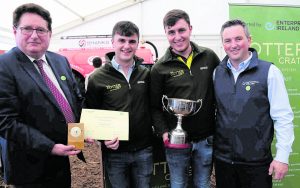 Young Abbeyfeale entrepreneurs and brothers Nick and Jack Cotter have won the overall ICT award at this year's Enterprise Ireland's Student Entrepreneur Awards, along with being awarded a €50,000 equity investment via success in the Enterprise Ireland Competitive Start up Fund.
Nick and Jack were awarded the duo of prizes for their product The Cotter Crate, a patent-pending, lamb handling system that makes dosing and weighing lambs easier and faster, while also preventing back injury. The Cotter Crate was developed by Jack Cotter (22), a student of Limerick Institute of Technology studying Process and Management Engineering, and younger brother Nick (19), a first-year student of Law and Business at UCC. Both are former students of Dromtrasna National School and Coláiste Ide Agus Iosef in Abbeyfeale.
The brothers are 'on a roll' with their Cotter Crate invention, having won 'Best Agri-Engineering Start-up' and 'Best Overall Start-up' at the Innovation Awards held at the National Ploughing Championships in 2019, and also scooped the 2019 Engineers Ireland Student Innovator of The Year prize. Following this their business Cotter Agritech was named among the 'Seven Agritech and Food Start-ups Revolutionising the World of Farming' by Silicon Republic.
This is the brother's 3rd venture, having started Cotter Bros Firewood, an industry-leading national firewood supplier nearly 8 years ago aged just 13 (Jack) and 11 (Nick).
Last August they launched their second business Cotter Organic Lamb with their Local MEP Sean Kelly, and Limerick Strand Hotel Chef Tom Flavin. They direct sell the organic, 100% grass fed lamb produced on their farm in Dromtrasna North, Abbeyfeale to homeowners and local hotels including their local Leens Hotel. The business won an Irish Quality Food Award last October.
With this newest venture, the brother's aim is to make life easy for sheep farmers worldwide by making their farms more productive, profitable, and sustainable. The brothers are aiming to launch the product in Ireland and the UK in 2021.
Nick told me "We're absolutely thrilled to win this award. There were some phenomenal entrepreneurs in the final, the standard was exceptionally high. To be among them in the Top 10 was a privilege for us, but to go on and win the Overall ICT award is a huge bonus! Besides the trophy, the prize has also brought €5,000 of funding which is going to help accelerate the achievement of our ambitions.
"We began this project early last year and there's been lots of ups and downs, so to win this award is a massive achievement for us, and we hope to use it to build momentum towards launching The Cotter Crate next year."
Nick continued, "Receiving the news of being awarded €50,000 of an equity investment from Enterprise Ireland on the same day was a huge shock and truly fantastic news. We want to say a huge thank you to everyone that has supported us through our firewood and organic lamb businesses over the years, and especially, to our Enterprise Ireland mentor Conor MacCormick, my UCC mentor Peter Finnegan and Jack's LIT mentor Gillian Barry for their guidance along the way and of course, our parents Nicholas and Jackie Cotter for their encouragement and support from day 1 of our entrepreneurial efforts."
There's no stopping these lads. They epitomise everything that young entrepreneurs should be, and the future of innovation in our country is in safe hands. We wish them the very best going forward and undoubtedly, we'll be watching this space.