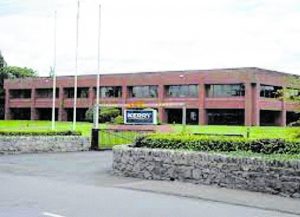 One of more than 20 beneficiaries of a Government-announced €70 million Capital Investment Scheme for the Processing and Marketing of Agricultural Products is Kerry Foods Division Charleville. An allocation of €5 million (the joint highest) was confirmed for 'Henry Denny & Sons of Charleville, County Cork' and as no such facility was commonly known in the North Cork town, it naturally provoked much speculation. The Vale Star, however, has received confirmation that the recipient is in fact Kerry Foods Division. A spokesperson for Enterprise Ireland, who are scheme administrators, confirmed to this newspaper that: "Henry Denny & Sons is an entity within the Kerry Foods Division" and that "queries on specifics of the proposed Charleville project should be directed to the company."
A query has been placed with the Corporate Affairs Section of Kerry Group in Tralee, speci-fically as to whether this financial support will result in job creation. Earlier this year, Kerry Group announced multiple job losses at its Charleville operation. A response is awaited by this publication.
The North Cork agri-sector as a whole is to benefit to the tune of around €20 million under the scheme. Other allocations under the scheme include: Kerrygold Butter Packing, Mitchelstown, €4.97 million (capital investment to support market diversification); Dairygold Co-Operative, Mallow €4.75 million (capital investment to support product and market diversification); Dawn Meats, Charleville and Rathdowney, County Laois €4.37 million (capital enhancement to facilities), and Kepak, Watergrasshill €3.1 million (capital investment to support market diversification strategy).
At the funding ann-ouncement, Tánaiste Leo Varadkar said: "This is a major investment in our agri-food industry which is the lifeblood of rural Ireland. It's all about helping the industry to develop and diversify by moving up the value chain and gaining access to new markets including Asia and North America. It will benefit farmers and the wider industry. I'm extremely proud of the fact that we produce enough food to feed nine times our population. Our agriculture sector employs nearly 165,000 people here. We want to make sure these jobs are secure into the long term."
He stressed also that the 165,000 employed in the Irish agri-sector can expect long-term job security through this funding.
Agriculture Minister Charlie McConalogue added: "This Govern-ment is committed to supporting our agri-food sector and ensuring that Ireland's reputation for high-quality, safe and sustainable food production is maintained and enhanced. New product development and market diversification go hand-in-hand. The €70 million investment we are announcing today will assist the sector, expand current markets and increase sales of higher value-add products in the global marketplace, maintaining our position as the sustainable food capital of the world.
"The key to these strategic investments is bringing benefits for all those along the supply chain, particularly farmers as the critical primary producers who are the bedrock of the €14 billion export sector."
"Our agri-food sector has to increasingly focus on sustainability, competitiveness and innovation to grow existing and new markets, and the funding announced today will help achieve these important goals," said Enterprise Ireland CEO Leo Clancy.
Kerry Group posted profits of €800 million in 2020, noted Senator Fiona O'Loughlin in a debate on the job losses at Charleville, and in her own Kildare at Naas, earlier in the year.