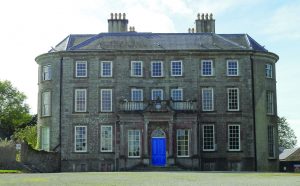 Doneraile Park's list of attractions will be greatly enhanced following news that the Office of Public Works (OPW) has placed a contract for refurbishment of the ground floor of Doneraile Court, at a cost of €900,000. Deputy Seán Sherlock TD has welcomed news that a Letter of Acceptance has been issued to contractor Eamon Costello, and that work will start on-site in the coming weeks. "The people of Doneraile have worked tirelessly defending this important landmark, and this is a victory for them," the deputy said, adding that this is "another feather in the cap for Doneraile Park as a major amenity".
"This will benefit everyone who uses the park. People are proud of Doneraile and I want to thank Minister Kevin Boxer Moran who visited in July last year. The Minister has honoured the commitment he made then. It will take some time but it is a major bonus for the people of this region," he said.
Once the refurbishment contract is complete, an interpretive visitor area will be created, plus an exhibition space.
Doneraile Park is among the top five most visited free attractions in Ireland every year, and upwards of a half million people pass through the gates annually.