Effin were crowned Munster Intermediate Club Hurling champions following a rip roaring final a Newcastle West on Sunday.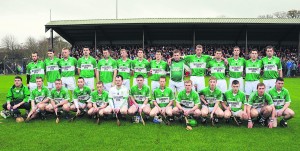 The Limerick champions were full value for their three point's success against a Kerry side that came into the game as firm favourites. It was generally expected that history was about to be made and that a Kerry team was about to win a Munster club hurling championship for the first time. Ballyduff were believed to be on the verge of bringing a first provincial hurling title of any description to the Kingdom in 120 years, going back to 1891 when the same club had represented Kerry in winning the county's only ever Munster and All-Ireland hurling titles. But the burning desire of the Kerrymen after landmark wins in the campaign over Courcey Rovers and Eire Og, Ennis was emphatically quenched by outsiders Effin who gate-crashed the Kerry side's expected celebrations and landed a second title in the grade in three years for Limerick.
This was not a good game, it was a great game, high octane end to end action for over an hour played in an exemplary sporting manner by two sets of protagonists who left it all on the Newcastle West turf. It is a measure of how far that this Effin team has developed since claiming a first ever Limerick junior hurling title on the same Newcastle West pitch just twelve months ago. They have made the seamless transition to intermediate hurling and have clearly developed as a team during the Limerick and Munster campaigns and are now playing a brand of hurling that is on a different stratosphere to that of late 2010.
It takes two teams to make a great contest and the Kerry champions at times, especially for periods in the first half, played neat combination hurling and picked off some well crafted scores. It has however been a characteristic of this Effin team during 2011 to up the tempo in the second half and again on this occasion, it was a much more obdurate team that emerged after coach Peter Finn's half time team talk. After Ballyduff's early flourish, Effin's resistance grew and after half time it moved on to a new level and from one to fifteen they increased the work rate and harried and closed down their opponents. Now the space that the Kerrymen enjoyed in the first half had disappeared and Peter Finn's side started dictating matters.
After the shaky start, Effin settled down to the task on hand and with Ballyduff corner forward Pat Joe Connolly causing all sorts of problems, Peter Finn and team manager Ger Power and selectors Denis O'Donovan and Jim Byrnes quickly identified the fault lines and rearranged their defensive forces to almost immediately come up with a cohesive unit. From the start Nicky Quaid was the game's most influential player and turned in a truly great display and was justifiably rewarded with the man of the match accolade on what was a memorable day for Effin and Limerick hurling. Quaid was the anchor of the defensive sextet in front of Danny O'Donoghue that as a unit was outstanding and grew meaner as the game progressed holding the Kerry champions scoreless for 20 minutes of the second half. A physically stronger Ballyduff half forward line garnered very little return from the tight marking Effin half back line.
James O'Donnell and Patrick Carroll having conceded the initiative to the Kerry pair Bobby O'Sullivan and Barry O'Grady early in the game gradually came to terms before asserting influence in that area and their contribution was vital in limiting supply to the Ballyduff attack. The pair was also effective in forays into Kerry champions' territory.
For long periods the Ballyduff half back line of skipper Ally O'Connor, Padráig O'Grady and Liam Boyle looked impregnable but Effin kept chipping away and eventually got a return in the area. The Kerry trio's dominance had the effect of depriving Effin Thomas Quaid of getting on the ball, especially in the first half, but when he did in the second half, he caused all sorts of headaches for the Kerrymen. The attacking performance of the day for Effin was that of Timmy Rea who had a very fruitful hour returning with three very well taken points.
Ballyduff were out of traps like lightning and corner forward Pat Joe Connolly was in devastating form in the early exchanges and he posted three points in a row before a long Nicky Quaid free was on target to open the Limerick champions' account after eight minutes. Then followed an eight minute scoring drought until semi-final goal scoring hero, Darren Sheehy chalked up Effin's second white flag to leave the minimum between the sides. This despite the Kerry side being the better side in the opening period. Bobby O'Sullivan from a free doubled the advantage before a second long free and a 65 from Nicky Quaid had the sides level 0-4 each after 21 minutes. A statement of intent by Ballyduff in the shape of three quick fire points from Mikey Boyle, Barry O'Grady and Aidan Boyle briefly suggested that the script writers had got it right. But Effin do not read scripts and points by Thomas Quaid and Damien Moloney hauled them right back into the game as the first half was coming to a close. Mikey Boyle and Thomas Quaid traded late points to leave the Kerry champions in the ascendancy at the short whistle 0-8 to 0-7.
Thomas Quaid slotted over the equaliser four minutes after the resumption before points by Timmy Rea and Enda Kelly had Effin in front for the first time. Quaid added his fourth point to stretch the Limerick side's advantage to 0-11 to 0-8 by the end of the third quarter.
A brace of points by the Boyle brothers Mikey and Aidan reduced the margin to the minimum with eight minutes remaining and a grandstand finish was in store. However points by Damien Moloney and Timmy Rea calmed Effin and Limerick nerves with just two minutes remaining. Bobby O'Sullivan ensured that the drama was prolonged to the very end by handing his side a glimmer with a pointed free in the 59th minute. However Timmy Rea completed a great personal performance to fire over in the first minute of injury to ensure that it was his captain John P. O'Donnell would later ascend the steps to lift the silverware.
Scorers: Effin: Thomas Quaid 0-4, 4f, Nicky Quaid, 2f and 1-65 and Timmy Rea 0-3 each, Damien Moloney 0-2, Darren Sheehy and Enda Kelly 0-1 each.
Ballyduff: Pat Joe Connolly and Mikey Boyle 0-3 each, Bobby O'Sullivan 2f and Aidan Boyle 0-2 each and Barry O'Grady 0-1.
Effin: Danny O'Donoghue; John P. O'Donnell (capt), John Dillon, Andrew Dillon; Michael O'Donnell, Nicky Quaid, Michael Rea; James O'Donnell, Patrick Carroll; Timmy Rea, Damien Moloney, Conor Kearney; Pierse O'Kelly, Thomas Quaid and Darren Sheehy.
Subs: Enda Kelly for P. O'Kelly (29) and Hugh O'Neill for Sheehy (45).
Ballyduff: P.J. O'Gorman; Jason Bowler, Paud Costello, David O'Grady; Ally O'Connor (capt), Padráig O'Grady, Liam Boyle; Bobby O'Sullivan, Barry O'Grady; Gary O'Brien, Aidan Boyle, Padráig Boyle; Pat Joe Connolly, Mikey Boyle and Anthony Carroll.
Subs: John Paul Leahy for Carroll (40), David Goulding for D. O'Grady (58) and Thomas O'Rourke for P. Boyle (59).
Referee: Michael Wadding, Waterford.