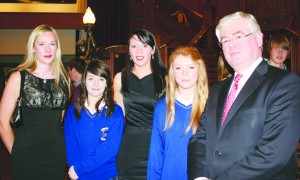 Last Sunday night saw RTE air the final of the All-Island Schools Choir competition, live from the magnificent Titanic Building in Belfast. After winning through to the Regional Finals but narrowly missing out in a place in the Belfast showpiece, Coláiste Iósaef from Kilmallock still have good reason to celebrate. Elaine Davern, music teacher and choral director of the schools Chamber Choir was awarded the top conductors' award in the competition.  The event was held at Belfast's Titanic Exhibition Centre and was patroned by an Tanáiste Eamon Gilmore and Northern Ireland First Minister Martin McGuinness.
The winners from each of the regional finals performed on a replica of the Grand Staircase from the Titanic.  Coláiste Iósaef reached the regional final for the second year in a row, the only Limerick choir to reach the regional final stage on both years. This year they were up against four Cork choirs and narrowly lost out to Loreto Fermoy. Representatives from Coláiste Iósaef were invited to attend the final in Belfast, Mr. Seán Twomey, Principal, Elaine Davern and Eimear Glancy, music teachers, Peggy Gilbert and Emma O'Donoghue, choir representatives.
This year, the competition included a conductor's award, which comprises of a bursary sponsored by the Association of Ireland Choirs. This was awarded to Ms Davern and presented by Ms Pat MacAlinden of the AOIC. On the night, one of the judges Mr. Seamus Crimmins stated that "the conductor becomes the channel for the music so that that person really becomes the embodiment of the music and instils in their young singers that appreciation for what the settings are about. In Elaine, we have somebody who has a very natural physical style and also a very natural musical style so that through her choir she is able to draw out the natural sense of the essence of the music they sing."
On accepting the award, Elaine stated: "It's a pleasure to work with the students in Coláiste Iósaef. They've been a joy to work with and a great inspiration to me to keep promoting choir and to encourage their musicianship and choral singing abilities." Ms Davern receives a bursary of a residential week long course which will be held in the University of Limerick in August of next year. "I am so honoured to win this award and I'm really looking forward to attending the course. The Association of Irish Choirs are a fantastic organisation which really help to promote choral singing in Ireland. Obviously I would not be receiving this award were it not for my extremely talented chamber choir. Their dedication and enthusiasm make teaching them a pleasure and the musicality they bring to the chamber choir makes me one very lucky director", explained Elaine.