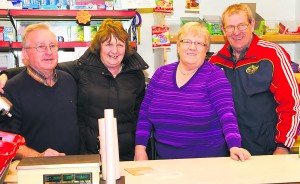 It was a nostalgic and teary eyed occasion on New Year's Eve when local postmistress Mary O'Meara turned the key to close Bulgaden Post Office for the last time. Family, friends and neighbours turned out in large numbers for Mary's last hours in the job to say thanks for almost four decades of dedicated service. Her retirement is the end of an era as it not only marks the end of postal services but also the closure of the last shop in Bulgaden parish.
It brought down the curtain on something that was part and parcel of the parish going back over a century. Mary O'Meara became just the third person to run the local Post Office when she took over on 26th March 1972. She followed in the footsteps of the first postmistress Hannah Sargent who ran the Post Office at Bulgaden Cross from the early years of the 20th century before handing over to the Meade family who ran it until 1972.
Five months after taking over the Post Office Mary O'Meara opened a shop in July 1972. Its closure brings to an end an even longer tradition of a shop in the area. Minnie O'Connell ran shop at Bulgaden Cross in the last decade of the 19th century and Sergants and Meades kept up the tradition. Other shops in the area included Higgins's, later to become O'Malley's, Timoney's, Nora O'Connell's in Balline, Quinn's later to become Tommy O'Connor's and Mary Hayes's at Gormanstown. All these closed in the 60s and 70s.
It was an emotional afternoon for the O'Meara family that includes Mary's husband Patsy, son Stephen, and daughter Mary and her family. Mary O'Meara has devoted her life to the retail trade starting off in Kildare before returning to Kilmallock and working at Kelly's and Parkinson's before setting up her own business on Bulgaden. "It is sad that it has come to an end," she conceded, "but life must go on. I have two grandchildren and I need to spend some time with them."
As she turned the key for the last time she said she would miss the interaction with the public. "I had lovely customers, we had great chats." Now with extra time on her hands any plans? "The Stakers will have to start hurling again and I will have to follow them, I have no doubt that I will find something and will not be idle," she concluded.