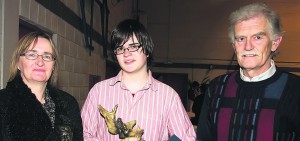 Excellence in academia, sport and a range of school activities was recognised at the Scoil Pól, Kilfinane Annual Student Awards ceremony last Thursday evening. It was very well attended with a large number of people present reflecting a vibrant school and enthusiastic students and supportive parents. The MC for the evening was staff member Sean O'Donnell. The special guest on the night was Deirdre O Shaugh-nessy, a past pupil of the school and now editor of 'Cork Independent" newspaper. Ms. O'Shaugh-nessy spoke of the great honour it was to return to her old school. She observed that in her view co-edu-cational schools had an advantage in preparing students for life. She remembered the respect she received at school and how it was the springboard for giving students the confidence to achieve their goals in life. In her speech she stated that hard work, confidence and personality are the keys to success.
The ceremony began with the presentation of awards for outstanding achieve-ments in state exams. The best Leaving Certificate result and best Junior Certificate result went to Patrick O'Callaghan, now studying languages at U.C.C., and Clodagh Hennessy respectively. The following received Student of the Year awards which were presented by Deirdre O'Shaughnessy.
First Year: First: Amanda Buckley, Second: Sharon Barrett; Third: Darren McCarthy.
Second Year: First Maria Curtin, Second Una Sheedy: Third Katie Hennessy
Third Year: First Elaine Rea, Second: Kayleigh McCarthy, Joint Third Lucy McGrath and Avril Frewen.
Fifth Year: Joint First Triona FitzGerald and Angie Tuohy, Second: Conor Clancy
Sixth Year: Joint winners: Keith Maguire, Kate O'Flaherty, and Deirdre Ryan.
The French Award was introduced by teacher Aileen Kelly and sponsored by Tipperary Co-Op. It was presented by: Deirdre O'Shaughnessy to Patrick O'Callaghan- who also won the Irish Award, sponsored by Ms. Marie Ring.
Elaine Malone was the winner of the English Literature Award spon-sored by Student Programmes Ireland Ltd and presented by Joe Carroll. Kilmallock Credit Union sponsored the history award which was presented to Patrick O'Callaghan .
David Lowe introduced the Construction Studies Award which was sponsored by Robert O'Sullivan Construction and awarded to Denise Weeks.
James Sheehy presented The Bank of Ireland LCA award to Nathalie Treacy. Other Bank of Ireland Award winners were Academic Senior: Patrick O'Callaghan, Junior: Clodagh Hennessy, Sport Awards: Senior: Kate O'Flaherty, Junior: Adrian Cooke, Community Spirit Award Senior: Elaine Malone, Community Spirit Award: Junior: Marie Curtin, Entrepreneurial Award Senior Triona Fitzgerald Junior Ellen Casey. Music Senior; Aoife Weeks and Junior Kevin Hosford. Aisling O'Connell and Ed Valatka received the Art Award.
Cairdeas Awards were presented to Noelle Carroll and Heather Carey on behalf of all the Cairdeas members.
AIB bank is an important sponsor of Scoil Pól and Karen O'Mahony of AIB Kilmallock presented the LCVP Award to Keith Maguire. MCS Limerick sponsored the IT Award which was presented to Angie Tuohy.
ECDL certificates were presented to a large group on the night by Deirdre O'Shaughnessy. The Academic Award for 2011 was presented to Ailbe Kiely.
Not all the awards were for academic achievement. Sports Awards were presented to Ian O'Brien for the best boy, and the best girl to Kristy Carroll by Blackrock GAA.
Awards were presented to the school chess team, Ellen Casey, Clodagh Hennessy, Niamh Weeks and Eimear Weeks.
The school has a very strong commitment to Gaisce and on the night the following received bronze medals, Robert Ahern, Ashley Carroll, Kristy Carroll, Triona Fitzgerald, Louise Frewen, Paddy Hennessy, Liam Murray, Conor O'Dwyer, Jess Quinn, Angie Tuohy, Cliona Walsh, Niamh Weeks.
Kate O'Flaherty and Mairead Condon received a certificate on behalf of those involved in Meitheal sport which helps to organise lunchtime activities. This is co-ord-inated by Lyn Nolan.
This was the second year of the Sisters of St Paul Award, which was won by Mairead Condon. The following students were also nominated for this award, Sharon Barrett, Avril Frewen, Clodagh Hennessy, Jess Quinn, Angie Tuohy, Daniella Keating and Deirdre Ryan.
In his address the school Principal Michael O Hara stated "that Scoil Pól provides a holistic education and this was evidenced by the wide range of achievements which were recog-nised at the awards night. He suggested that the school was fortunate to have such supportive parents, generous sponsors, and a high standard of teaching. "There is also an active participation by the wider community in all aspects of life at Scoil Pól". he said.
Refreshments were provided and a great and positive atmosphere prevailed.