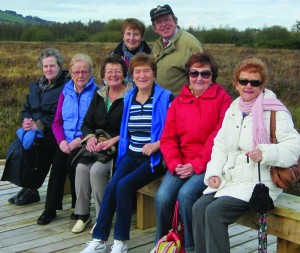 A group of patrons of Tom Brouder Coaches drawn from west Limerick, Kerry, Clare and Cork paid a day long visit to the Ballyhouras recently and enjoyed a very pleasant day exploring the sites and experiencing the hospitality that the area has to offer.
First call was Deebert House, Kilmallock before travelling on Griston Bog, Ballylanders, Limerick's first Discovery Science and Math's Centre. This is a very interesting project the local schools visit here and they can make very interesting discoveries for themselves, pick up a stick, find an insect and look at it under the microscope, listen and see the wild birds with the binoculars provided.
Travelling through the Ballyhoura region and with the help of Mary Fox and Fergal Somers who pointed out buildings of a historical nature, the groups were informed of 20-80km cycle route, International Walking Festival, Mountain Bike routes (bikes provided with all that you need), M.T.B. Rental Ballyhoura Trail riders, the Ballyhoura Way and loop walks in Ballyhoura Country. The Ballyhoura Way is a 90km way-marked trail, it follows the route of the Irish Chieftain O'Sullivan Beara who marched from Glengarriff to Leitrim between the 31st of December 1602 and the 14th January 1603.
Lunch was organised for the Tea Rooms in spacious Doneraile Park where guide Cal McCarthy helped the group visualise life in the old days in the Park and town. While in the park the group had an encounter with Solomon, the owl before paying a visit to the old convent that is now home to an antique and furniture restoration centre.
On the way back to the Deebert Hotel, a brief stop off to see the Mountain Bike Trails and Forest Park, where a short trip up the mountain enabled the group to experience the breathtaking beauty of the rolling countryside. The day finished where it had started, dining at Deebert House before heading for home.