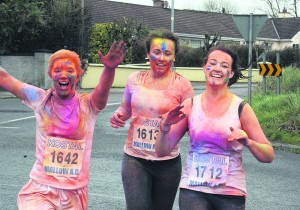 Last Sunday was an historic day for Mallow as the Young Social Innovators class at St. Mary's Secondary School, hosted the town's first ever Colour Run. The event was organised to raise awareness for the anti-trafficking cam-paign, S.T.O.P (Stop Trafficking of People). Over 300 runners, spectators and helpers were involved. Dave O'Regan from Cork's RedFM visited in the RedFM patroller. This caused great excitement and really added to the electric atmosphere around the school at the finish line. The Young Social Innovators class are donating the proceeds of the event, €1000, to the organisation APT (Act to Prevent Trafficking). APT is a faith-based group working against Traffick-ing in Persons (TIP). Members of APT are people belonging to religious congregations or missionary societies which are part of Conference of Religious of Ireland (CORI) and/or the Irish Missionary Union (IMU). APT members first met in December 2005. Concerned about the growing reality of the worldwide trafficking of women and children for sexual exploitation, they wanted to explore ways of working together to prevent this evil.
 APT seeks ways to protect the rights of victims of trafficking working with other groups to address the issue of demand for purchased sex, which fuels the trade in human traffick-ing. The organisation prays and encourages others to pray for those trafficked, for traffickers and for an end to this great violation of human rights.
St. Mary's would like to thank the following groups/people in Mallow for their invaluable help. Firstly, the Red Cross who provided their services free of charge. Secondly, An Garda Síochána who ensured the runners were safely escorted around the 5km course. Indeed, the Gardaí deserve to be doubly thanked as they also provided assistance with the S.T.O.P campaign's Red Day on 17th October. Thirdly, Denis Sheehan from Mallow Athletic Club deserves special mention for his guidance in relation to organising the event. Denis also helped with traffic control on the day. Thanks also to the Mallow ladies football team who skipped a training session to participate in the Colour Run.
Finally, huge thanks to all the participants and members of the local community for supporting the Colour Run and making the day such a memorable experience. Indeed, it was such a great success, it may become an annual explosion of colour on the streets of Mallow. Whoever thought that exercise could be so much fun!