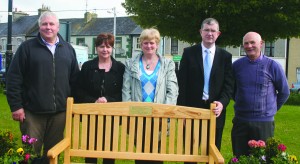 Dromcollogher Tidy Towns, Hazelwood College, the local Credit Union and others recently joined forces to carry out a major facelift to the garden centrepiece in the town's square.
The feature which has been part and parcel of Dromcollogher for over forty years is now decked out with new benches and floral features for locals and visitors to enjoy. The old benches had gone into disrepair and had been taken but now the Tidy Town in association with the woodwork department in Hazelwood College have arranged for the installation of spanking new seating. "We were approached by the Tidy Towns Committee and the school were very happy to have another link with community and it was an opportunity for the woodwork department to show our skills and the students to have something to represent their work," explained Jonathan Feely, woodwork teacher at the school. The three benches were hand made by the students from good quality hardwood ash, finished in decking oil for weather protection and installed on concrete bases. The stu-dents have been involved in making the benches for a couple of hours a week since last November. "We are very proud of our input into the development and we have had plenty messages back to the school commenting on how well they look and on the quality of the students' work," Mr. Feely said.
It is an uplift for the centre of the town and was a great community effort, it adds more to the focal point in town according to Tidy Towns Committee member Frank Brudair. "It was really the strands of the community pulling together, while it was the Tidy Towns idea, it would not have been possible without the Credit Union coming on board and providing some very valu-able financial assistance. The Dromcollogher Carnival Committee also gave a donation towards the work," Mr. Brudair said. Some very tasty floral features have been provided adjacent to the benches and for this Mr. Brudair expressed his thanks to local florists Eamonn Villiers of Coun-try Fresh and Rita Ruddock for their sponsorship and for the planting in the Square.
The development is only part of the bigger project that the hardworking Tidy Towns Committee have planned for enhancing the town. "Every town and village is vying with each other to look the best and put its best foot forward. Dromcollogher is a proud town and we like to do our best. It is a long term project but when people are working together, the support of schools and local families helping out, it shows what can be done with a small bit of effort," Mr, Brudair concluded.