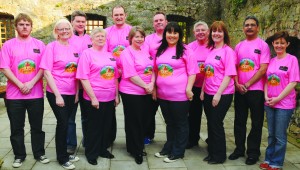 The O'Sullivan family of Deebert House Hotel, Kilmallock, are organising a Fun Day for Lucy in aid of the Jack and Jill Children's Foundation and in memory of their precious little girl, Baby Lucy Anne Murphy O'Sullivan. The Jack & Jill Children's Foundation provides direct funding to families of children who, as a result of their condition, require intensive home-nursing care.
In 2012, Jack and Jill provided home-nursing care for Baby Lucy, allowing Lucy to be cared for at home until she passed away peacefully in her family's arms. At just two-weeks old, Baby Lucy was diagnosed with Edwards' Syndrome, a chromosomal disorder which would not allow Lucy to live for very long. In the blink of an eye, a family's hopes and dreams for their beautiful little girl were shattered. Wanting her precious time with them to be filled with happy memories, the family decided to bring their little girl home, where they could be together as a family. Leaving the wonderful care of the staff of the Neo-Natal Unit at the Regional Maternity Hospital was a daunting task; however, Íde and Jim soon discovered that they were not alone. In addition to the wonderful support provided by family, friends and their GP, the Jack & Jill Children's Foundation provided wonderful support for Íde and Jim, ensuring that their time at home with Lucy was happy and peaceful. The love, care and attention with which their Jack & Jill nurses cared not only for Lucy but for all of the family was outstanding. Knowing they were there to care for Lucy for some hours each week, allowed Jim and Íde time to get some sleep or spend some time with their other little girl, giving them the strength to care for Lucy.
Lucy spent six beautiful weeks at home with her family. Lucy's home was a happy home, where wonderful memories were created, memories that would last forever. At home, all of Lucy's family spent precious time with her, especially her big sister, Emily. At home, the family could be together as one unit, allowing all of the family to be involved. Surrounded by love, Lucy thrived, gazing and smiling happily as her big sister entertained her endlessly. No memory could be more beautiful than watching your children cuddled up together, smiling. This is how Lucy left this world at just nine weeks, wrapped in her family's arms at home. Nothing compares to caring for your baby at home.
Lucy was tiny but even the smallest of feet have the power to leave everlasting footprints on the world. Please help Lucy's family raise much needed fund for the Jack & Jill Children's Foundation, while remembering the everlasting print this little girl has left on her family's hearts.
So get those training shoes on and come and join the family on March 9th in Deebert House Hotel, Kilmallock. At 10am there will be a 60k/30k cycle for those who like a greater challenge. At 2pm there will be a family fun 8k run/walk/ buggy-push (accompanied children may cycle). Registration for each event will take place at Deebert House Hotel, Kilmallock, commencing one hour prior to each event.
If you are unable to attend the event, we hope that you will consider making a donation. Online donations can be made at: http://www.mycharity.ie/event/ide_osullivans_event/. We can assure you that any contribution you make will be greatly appreciated by families caring for very sick children at home.