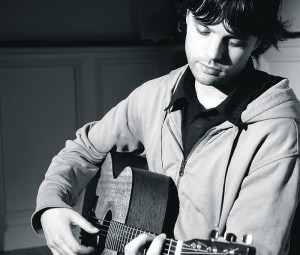 Mallow guitarist and singer songwriter Fergal O'Connor releases his debut album 'Light Breaks Through' today, Thursday 22nd January in the Heineken Ireland Brewery, Cork city. Featuring a diverse array of talented musicians including Liam Ó Maonlaoí, London-based tenor Ron Samm, Indian Sarod player Sougata Roy Chowdhury, and African guitar virtuoso Niwel Tsumbu, the album seamlessly fuses many cultures and influences, while retaining an organic and original sound. The title track 'Light Breaks Through' is a gorgeous and ambient piece featuring sweet female vocals with a slick production, while track two, 'K. Yairi Shines', is an upbeat, feel-good song and very radio friendly, as recently featured on John Creedon's Radio 1 show.
The album was recorded in the stunning lakeside Sonas Studios in Killarney with the award winning Tony Flaherty, and mastered by his brother Ruairí in Los Angeles, and both brothers have cited the album as "one to watch out for" in 2015.
A tour of Ireland is planned for this year, showcasing the album and new material with the band. The launch will feature a selection from the album and a sprinkling of new songs, and promises to be an intimate and soulful evening of great music.
As well as writing and performing, Fergal composes music for theatre and dance. He spent much time in West Kerry while making his debut album, and currently resides again by the sea in East Cork. His magical mythical piece 'The Ninth Wave ' featured Liam O Maonlai, Ronan O Snodaigh and a host of dancers and musicians at the 2007 World Bodhran Festival. This show in Miltown , Co.Kerry planted the seed of his debut album, 'Light Breaks Through.'
Fergal travelled to India in his early 20s and the place, its people and culture deeply inspired him. He has been working with actors and dancers and street artists over the last few years, and it has definitely expanded his musical and artistic horizons. Nature and the love of landscapes and the natural world is woven into his songs, and this style creates powerful atmospheres in the songs and music.
Fergal is drawn to the underlying groove and rhythm in music and has also worked as a creative music and drum circle facilitator with groups from all over the world. This has been a powerful tool of expression and has taught him much about listening to other musicians.