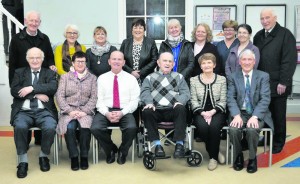 It is with huge regret that the committee members of the Friends of St Ita's Community Hospital recently bid farewell to their esteemed and valued chairman Fergus Scanlon.
Fergus has led the group for the past 13 years, since its foundation in March 2003. His contribution over this time has played a major role in attaining a level of standards, particularly in relation to patient accommodation and facilities sufficient to meet the very exacting HIQUA requirements. And having successfully done so, thus secured the long-term viability of this great community hospital into the future.
During his tenure Fergus has spearheaded numerous fund raising events which has raised in excess of €3.522 million and this in turn has funded and brought to fruition many projects which include the replacement of a minibus, the provision of a day ward, the provision of palliative Hospice Unit, enclosed garden, palliative patient transport bus and a 22 bed Rehab Unit.
Fergus's number one priority has always been the care and well being of the patients, first and last, and he can feel justly proud of his great legacy to St. Ita's. His dedication and commitment has to be commended. Despite the fact that his role was an honorary one, he never spared himself when it came to his time, commit-ment and enthusiasm. He worked astonishingly hard and displayed exceptional leadership skills. He will be sadly missed by all and the committe would like to take this opportunity to wish him and his wife Eithne every happiness and good wishes for their future.