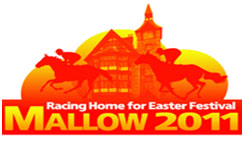 A celebration of 'Mallow-ness' is planned when Mallow Chamber, the North Cork Business Alliance (NCBA) and the Rotary Club join forces for a Festival Breakfast Meeting at the Hibernian Hotel at 7.30am on March 30th next.
Current chairperson of the NCBA, sponsors of the event Sean Lynch says, "Mallow is a hive of activity at the moment and with a new Traders Association being established in the town, greater co-operation and communication between the groups is something we are keen to foster. A lot of hard work has gone into the planning of the upcoming Racing Home for Easter Festival and we wanted to do our bit to spread the word by hosting a Festival Breakfast."
Mallow Chamber President Mary Kelly agrees. "Sean has recently joined us as a director of the Chamber, as have a number of those behind the new Traders Association and already we can see the benefits of closer communication. We want to ensure that any issues are communicated to those in the town who can help to resolve them in an open and transparent manner. It is a very positive thing for business in Mallow and is some-thing we definitely want to encourage."
Jim Barry, Managing Director of the Barry Group, another business synonymous with Mallow, will be the guest speaker on the day. "The Barry Group has really been raising its national profile of late and has won many awards. We are looking forward to hearing Jim's insights into the company's future plans," says Sean.
Mary Kelly has also been extremely busy in her other role as chairperson of the Racing Home for Easter Festival. "We really do have a terrific sense of co-operation in Mallow and the festival is a shining example of that. We have been working closely with Mallow Town Council, small, medium and large scale businesses and they have been very supportive of this year's event. Thousands of people will be coming to our town over April 7th, 8th and 9th, which will provide a much needed boost for the local economy."
Sean Lynch says, "Mallow is a dynamic place. In recent weeks we've seen a colourful St Patrick's Day Parade, the annual Mallow Search and Rescue River Raft Race, an upcoming Student Race Day at Cork Racecourse and, of course, the Easter Festival. There are a lot of hardworking committees and groups in this town and we thought it would be good to invite everyone to a relaxed breakfast where we can celebrate achievements to date and perhaps spark some fresh ideas."
Booking is essential for the Festival Breakfast. Tickets will be €5 and are available from Sean Lynch at QiFA Financial 022 57444 or Mallow Chamber on 022 55660.