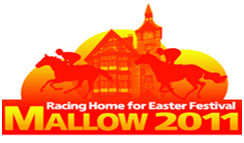 The organisers of Mallow's Racing Home for Easter Festival are delighted that many businesses have pledged their support to the 3 day event on April 7th, 8th and 9th. The sponsorship committee has been working hard to speak to sponsors who came on board in 2011, asking them firstly if they are in a position to renew their commitment for 2012 and while a number already have, some new sponsors have emerged too, encouraged by the success of the 2011 event.
Ongoing Festival Partners such as Fáilte Ireland, Irish Rail, Cork Racecourse Mallow, Cork County Council, a Town Council, the Mallow/Vale Star and Weekly Observer, C103, Avondhu/Blackwater Partnership Ltd, Mallow Vintners, the Hibernian Hotel and Mallow Print have once again rowed in behind the festival.
But this week, we are thrilled to once again welcome on board as partners Knight's Spar, Carry Out off licence and Amber Filling Station in Ballydaheen and the Mallow Primary Healthcare Centre. "I see the Easter Festival as something the people of Mallow town deserve to have, an event that gives all the hardworking people of the town something to be proud of", says David Knight. "There is a terrific party atmosphere in the town over the bank holiday weekend and we see a natural connection with our businesses as a result".
The Mallow Primary Healthcare Centre have renewed their festival partnership for 2012. Festival Chairperson Mary Kelly says, "It's com-mitment like this that helps the entertainment committee plan ahead knowing that the funds to cover their exciting plans are falling into place at the same time. We are conscious that businesses are feeling the pinch this year and we are very grateful to all the doctors at the MPHC for this contribution towards our event."
Another festival partner is the Hibernian Hotel. "As well as making a generous financial contribution to the festival, the hotel hosts our weekly meetings there and they provide a number of beds for guests of the festival over the 3 days also which offsets a major cost to the festival," says Mary.
Festival friends have been quick to support the event also, with generous contributions made by Mallow Credit Union, the North Cork Enterprise Board and most recently Dermot Casey Tree Care and Tool Hire.
"Dermot Casey's actually contacted us," Mary is delighted to report. "It just goes to show the success of the festival that sponsors are actually approaching us having seen how the profile of the event has increased over the past 2 years. Dermot Casey's have always been sponsors at Cork Racecourse Mallow, but now they have extended that sponsorship to include the festival and we hope that relationship will continue."
Spiralli Business Solutions are also friends of the festival. "We have been working very closely with Ivan and Niamh over the past few months redeveloping and modernising our website, www.racinghomeforeaster.ie and we hope that it will provide a one stop shop for anyone coming to visit Mallow over the Easter Bank Holiday weekend", says Mary.
The festival is looking for 'partners' and 'friends' to show their support. Pat O'Sullivan of the sponsorship committee says, "We would be hoping that larger companies would be in a position to contribute a few hundred or even a thousand euro to the festival, but last year we were overwhelmed by the support offered by smaller businesses and even individuals of €50 or €100. All the money will go towards a hectic programme of events over the Easter Bank Holiday weekend,"
The Racing Home for Easter Festival will also be holding a flag day on Saturday January 28th in and around Mallow town. If you would like to make an individual contribution or on behalf of your company, to find out more about becoming a partner or friend of the festival, please contact Michelle in Mallow Chamber on 022 – 55660 or Mary on 022 -50207.
FESTIVAL PARTNERS TO DATE: Fáilte Ireland, Irish Rail, Cork County Council, Mallow Town Council, Mallow/Vale Star, C103, Avondhu/Blackwater Partnership Ltd, Hibernian Hotel, Mallow Vintners, Mallow Print, Knight's Spar, Carry Out off licence and Amber Oil and the Mallow Primary Healthcare Centre.
FESTIVAL FRIENDS: Mallow Credit Union, North Cork Enterprise Board, Blackwater Valley Tourism, Dermot Casey Tree Care and Tool Hire, Spiralli Business Solutions.