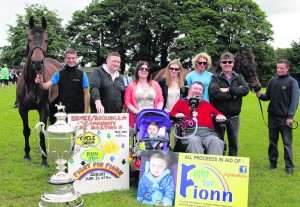 Rockhill/Bruree community are hosting a 5km walk, 8 km run and a 50 km cycle and with a Monster Raffle on Sunday 26th June. This is a fundraiser for a brave little boy, Fionn Barry, who is almost 2 years old. Fionn has spent most of his short life in hospital as he has a seriously debilitating and life limiting illness which requires 24 hour care.
Trevor, Fionn's father, lived in Bruree for many years and played sport with the parish. His wife Brenda worked at our local pre-school 'Stepping Stones' until she gave birth to Fionn. This is how she describes how life has been for Fionn since he was born:
"Our son Fionn is nearly two but unfortunately Fionn is unable to do many of the things an average 2 year old can do. Fionn is unable to walk, stand or even sit unaided, he cannot talk and he is visually impaired.
Fionn is our only son and we waited a long time for him, so when he was diagnosed with infantile spasms at only 6 months old we were absolutely devastated. This is a very rare and dangerous type of epilepsy and every seizure could potentially cause Fionn's brain irreversible harm. He had to be put on several extremely potent and harmful drugs with side effects the length of your arm. I remember being so frightened to bring him home, worried about the dosage and administration of these awful medicines. Day after day we watched our beautiful baby boy descend into the 'fog' and become less and less responsive. He had to have his medicines 5 and 6 times a day, the pres-sure of this is unmerciful, pressure to get the doses correct and also the pressure to make him take the medicine; if he was to spit out the medicine, would he have a seizure? Should this medicine be given again? In those awful early days there were lots of calls and visits to the hospital worried about everything, the doctors searching for a cause for these seizures. He would cry and cry for hours and hours. up to 18 hours per day a lot of the time, the stress was unmerciful. I never slept, too afraid I would miss a seizure. The days were filled with medicine, crying, despair and uncertainty, the agony of not knowing the cause of this awful illness. I could not leave the house much at all and if I had a hospital appointment with Fionn I would need someone to come with me as he was crying so much he would go blue and it was so difficult to focus on the road. There was lots and lots of tests and never ending hospital stays, Trevor was working in Shannon and would try to visit as much as he could but during the week it was torture up in Cork, alone with a very upset little baby and trying to cope sleeping on a chair. He has extreme GORD (severe reflux) which meant feeding and weaning was an extremely difficult area, his constipation was/is so bad he had to have numerous investigations under anaesthetic of his tummy and bowels and had to have Botox injected into his bum as a result of a considerable fissure (tear) in his bum. He would scream for 3 hours before a bowel movement and up to 3 hours after as it was utter torture for him. Adults need extreme pain medication for this and for him a small little baby having to go through it must be just utter agony.
We thought things were bad, I think we had no idea how bad things could be….
It was total utter devastation when we were told at Christmas after spending over 3 months in hospital, one month in Temple Street in Dublin that our beautiful boy had a "life limiting" illness and that we should take him home and "make him comfortable" and "enjoy him while we have him". "The doctors had discovered that Fionn's brain is too small, it's only the size of a 6 month old baby's brain and they have no idea why. We have been told there is no treatment and no cure, well we just went into total shock and I believe we are still in shock. We asked the doctors for indications of what may happen or how will we know if he's going downhill and they can't answer this either, saying each child is different and that because Fionn is considered a medically complex child if he were for example to get 3 chest infections in a row it could weaken him so much that he simply would not recover. He has had to be fitted with a PEG [percutaneous endo-scopic gastrostomy tube] and is not fed by mouth any more but by a tube directly into his stomach as during one of his tests it was discovered a tiny bit of food/milk was trickling into his windpipe when he fed (this could make him choke or cause him to have numerous chest infections). This is not a nice thing, it has to be cleaned and dressed and looked after twice a day at the moment and the tube hangs down and is easily caught up in things so we have to be extremely vigilant when picking Fionn up or moving him that the tube is not stuck somewhere. Trevor has been unable to return to work since we heard this news, neither of us want to miss a minute with him and I really needed help with the day to day care of him. It is truly awful, no parent should have to do this or watch their baby go through this.
"The only thing that kept us going was Fionn, his beautiful face, his smile, his big blue eyes and those long eyelashes. Our son. We would do anything for this little boy and we will continue to do whatever we have to for him.
"So with all this in mind we decided to start fundraising. We want him to be as happy and comfortable as he can possibly be. Our house is a two-storey cottage and we have had to move him into a downstairs room which is really not suitable for his needs, it's small and cramped and all his medical supplies (suctioning mach-ine, milk pump, adapters, giving sets, stander, activity chair, physio equipment, bottles, medicines and syringes) completely take over the room.
"We feel he deserves a bedroom like any other little boy, where you see toys and colourful books when you walk in, not 10 boxes of syringes.
"He will also need many intensive therapies to help him, these will have to be sourced privately as the waiting lists for children's services are just huge.
"We believe that with these therapies and having a room more suitable to his complex needs the need to return to hospital so frequently will be reduced, thus keeping him away from lots of possible infections as well as making him physically/medically well enough to achieve his milestones. We believe this little boy needs the chance to prove the doctors wrong, and constant long stays in hospital are making it hard for him to progress developmentally. When a little baby is stuck for months on end in a cot in a tiny hospital room how can he develop?
"He needs a little boy's room that is fully accessible and his bathroom also needs to be carefully planned to suit his growing needs, our home must be made accessible also. This costs a huge amount of money, between €80-100k we have been told. We were totally dismayed when we found out how much this could cost us and felt it could never be done but the generosity and kindness of our friends, family and neighbours has shown us that where there is a will, there is a way.
"We want Fionn to be the best he can possibly be and to give him the utmost chance for him to one day achieve all these milestones. We want him to move freely in his home and to be cared for in a safe and comfortable environment.
"Fionn Barry is the strongest, most determined little person in the world, if anyone can do it, he can.
"Please help us in our FIGHT FOR FIONN."
On Friday 10th June at Bruree National School this fundraising event was launched by Nina Carberry, Enda Bolger and John Thomas McNamara. It was attended by Fionn and his parents. There was beautiful music provided by talented musicians from the school. Nina who was the winning jockey on a horse called 'On the Fringe' won the St. James's Place Foxhunter Chase at Cheltenham last March. The horse was trained by Enda Bolger from Bruree. This was a marvel-lous achievement. This cup was on display at the school and Nina, Enda and John Thomas have all won it in their own right as jockeys. Congratulations to them and many thanks for taking the time to come and launch this event for such a worthy cause. There was a great crowd at the launch and our guests were made very welcome by the children, parents and all the local people from the parish that attended. A lovely afternoon was had by all.
The organising committee of this event represent the organisations of the community of Rockhill/Bruree and are looking for your support on Sunday 26th June to make this worthy fundraising day a great success and help in the "Fight for Fionn" If you want to donate to the cause or find out any further details about the fundraiser please contact Margaret at 086-4024066.
There was a special welcome for brave little boy Fionn and his parents Trevor and Brenda. His parents have been to the end of despair and back but are not giving up on their little fighter. Friends and family have set up the "Fight for Fionn" fund to raise €100,000 to adapt his home to his needs and to be cared for in a safe and comfortable environ-ment.
We are looking forward to a great turn-out on Sunday 26th June for the 5 km walk, 8km run and 50 km cycle and to the support for our Monster Raffle. It is a very worthy cause and we wish Fionn and his parents all the best for the future.
Thank you to Jimmy Woulfe Principal and the staff and Board of Management of Bruree National School for providing the great venue for the launch and for allowing the children to take part in the occasion. Thanks to the talented musicians for their beautiful music. We are indeed blessed to have a great school in our parish and are very thankful for the encouragement and dedication of its teaching staff to all the students and the school plays a large role in our community. Many thanks also to the staff of "Stepping Stones" our community pre-school who also helped. Brenda, Fionn's mother, worked at the pre-school until Fionn was born, so Brenda would be very well known to some of the younger students.
Thanks to all the members of the organising committee of this fundraising event. As you can imagine a lot of work goes on behind the scene to enable the event to happen and it has been a great union of the organisations of the parish. All we hope for is that it will be greatly supported and that we help in reaching their target in the "Fight for Fionn".