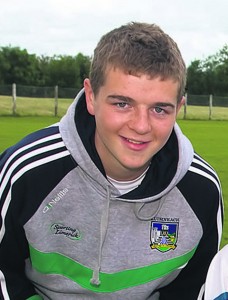 The parish of Dromin-Athlacca and the local G.A.A. club were celebrating last Saturday evening after one of their own had earlier in the day been part of a very special chapter in Third Level Colleges hurling.
David Reidy was a member of the Mary Immaculate team that captured one of hurling's most coveted pieces of silverware, the Fitzgibbon Cup for the very first time.
Reidy who is a member of the current Limerick senior hurling team and was a county intermediate hurling championship medal winner with Dromin-Athlacca in 2013, was consistently among the college's consistent scorers during the campaign. He chipped in with three points in Saturday's marathon final tot help the side managed by former Limerick hero, Eamonn Cregan get their hands on the trophy for a record first time. Following a high scoring 1-30 to 3-22 victory over University of Limerick.
A former pupil of Charleville C.B.S, led his school to the Dr. Harty Cup final in 2011, the first time the school had reached the final in over 70 years, where they went down to an Ardscoil Rís side that included among its ranks, one of his team mates on Saturday Declan Hannon and also one of his opponent in the final, Kevin O'Brien. Also on the Mary Immaculate squad were Conor Twomey, Newtownshandrum and Mikey Browne, Ballyhea both former team mates of the Dromin-Athlacca man in Charleville C.B.S. while among the management is one of his current Limerick team mates Gavin O'Mahony.
The Mary Immaculate success is all the more remarkable as it is the college with the smallest male population of all those taking part in the competition.
David Reidy is the second hurler to bring a Fitzgibbon Cup medal to Dromin-Athlacca following on the footsteps of Dermot Mulcahy who was a winner with U.C.C. in the 1960s.