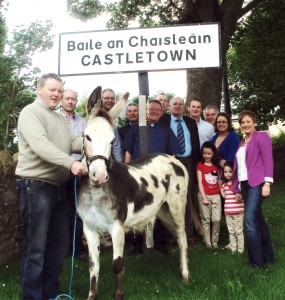 The hard working Castletown Festival Committee are putting the final touches to the five day festival planned from Wednesday August 15th to Sunday August 19th. Some of the proceeds of this year's event will go to Make a Wish Foundation.
The Festival kicks off on Wednesday August 15th with Mass at the Holy Well followed by an Afternoon Tea Dance in the hall while Shaun O'Dowd and Hanora will appear at the marquee from 10p.m.
Thursday is fun/walk day at 6p.m. followed by fun bingo in the marquee in aid of Castletown/Ballyagran G.A.A. club. Traffic will be on stage at the marquee on Friday night while events get underway on Saturday with a 75k cycle in aid of Make a Wish Foundation at 11a.m. The afternoon will feature 10 horse and pony races, a charity shave and the night finishing off with Atomic Chicken on stage.
Sunday is Family Fun Day with the headline event the now world famous Donkey Derby which this year will see two races, an open derby and a confined fun derby. All donkeys must be pre-entered. The day will also include a vintage display, wheel banding, bouncy castle, husband and wife race etc. with something for everybody to complete five fun filled days.