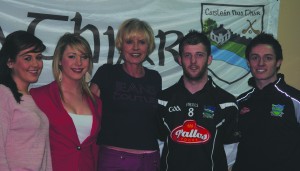 Some of Newcastle West's footballers will swap the green fields for the catwalk at a Monster Fashion Show later this month.
Newcastle West G.A.A. have organised the event and it will take place on Thursday 19th April at the Courtenay Lodge Hotel with the proceeds from the evening earmarked for club funds.
Members of the Newcastle West G.A.A. and camogie teams and possibly other local G.A.A. personalities will join top model agency Ursula Stokes on the catwalk modelling the latest in fashion wear from a number of outlets including Platform, Bella Sola, G. Boutique, Ella Maria, Blush, Kimono, The Curvy Closet. Adrenalin Sports, Scanlon's Menswear, Gatsby's, Noel's, Moran's all Newcastle West.
On the night, Ursula Stokes will introduce to the catwalk and the bright lights, two members of a class that she is currently holding at the local S.M.I. on personal development, deportment and grooming.
The evening's proceedings will kick off at 8pm with a cheese and wine reception. There are a number of spot prizes sponsored by local businesses and plans are in place to hold a raffle for which the top prize is a 2 night stay in the Vienna Woods Hotel, Cork.