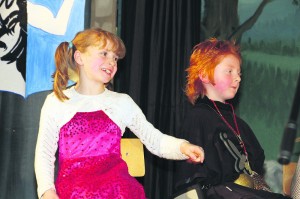 It's always a busy time in Gaelscoil Thomáis Dáibhís, every week of the school year sees children involved in some activity or other and enthusiasm and hard work are the order of the day. Christmas, however is exceptionally busy and a particularly joyful time for pupils as they tread the boards for the annual 'Dráma na Nollag' as proud parents sit in the audience mesmerised by the standards and talents of their 'páistí óga'. Bíonn sceitimíní ar na múinteóirí chomh maith agus ní nach ionad go mbíionn siad bródúil as a ndaltaí, bíonn sár-obair ar siúl ag gach éinne. Co-operation and teamwork are catch phrases amongst teachers and parents and the beneficial outcome produced as a result of the motto 'Ní neart go cur le chéile' is very evident. The school musicians under the tuition of Ms. Jackie Bolster and Muinteoir Conchur got this year's concert off to a fine toe-tapping start on Wednesday evening. They performed four beautiful tunes – Back to the Haggard, Little Diamond, The Butterfly and Oiche Chiúin. Indeed they have a wide repertoire of tunes and they could have performed for at least an hour but no coucert could take place without the very fine input of the school choir. Muinteoir Maire Ni Mhainnin has always had a very special place in her heart for the choir, who were next on stage. Christmas carols beautifully sung evoke a sense of sentimentality and memories of childhood come flooding back. This was certainly the case as the children sang Oíche Chiúin, Dia do Bheathasa and Away in a Manger, as misty-eyed parents joined in with lyrics 'Críost ina chodladh go séimh, Críost in a chodladh go séimh'. Rang 2 presented a play based on the Rose of Tralee Festival, entitled Rós Thrá Lí. It was an experience to watch the cailíní beautifully turned out as the Australia, England, USA, Cork and French Roses etc. Each one sang or danced and there was also a prize for the best escort. The delighted audience was charmed as they heard the whole class sing 'The Rose of Tralee' at the end. Múinteoir Micheál O'Scanláin is a wonderful exponent of everything Gaelic. A native of Dingle, he enjoys a great rapport with his pupils and his love for and fluency in the Irish language transfers easily to his pupils.
Rang 3 were next on stage with a play based on 'Finscéalta na hÉireann and entitled Scéalta Cúchulainn. We saw some fine warriors with a song and a tune for every cogadh as their múinteoir Conchúr O'Riain took it all in his stride and undoubtedly was planning another event, one which would further advance the many talents of the Gaelscoil pupils. He plans to take grúpa cheoil na Gaelscoile to the local library today Wednesday to entertain the public and to collect funds for the local St. Vincent de Paul Society.
The final presentation on Wednesday evening was the fourth and fifth class drama and indeed it was very well worth waiting for. 'Scéal Frankie' was as good as any play produced in any theatre in Ireland, a very professional effort and presentation. These young pupils knew their lines impeccably and the singing at the end was superb. One could not help being very impressed. 'Maith sibh Muinteoir Siobhán De Prinnbhíol agus an rang iontach sin'.
On Thursday evening the dramaí were equally as good and it was the turn of Rang 6 to get the show on the road with a play entitled Luaithrin. The pupils thoroughly enjoyed themselves – singing, dancing, the humour and wit were infectious. The audience showed their appreciation, breaking into peals of laughter and loud applause at the end. Múinteoir Máire Ni Mhainnín was very pleased.
Rang 1 did themselves proud with Scéalta Séidean Sí and Muinteoir Labhrás Ó'hIcí was delighted with his young pupils. These young 6 and 7 year olds showed everyone present that they too were fluent in Irish and had a lovely selection of songs and tunes on the violin.
Muinteoiri Siobhan Ui Chonchubhair and Angela De Roiste had put a lot of work in Rang 4's presentation entitled 'Brionglóidí Áille'. It was full of wit and humour and it was clearly evident that the pupils thoroughly enjoyed performing the play. No doubt that they will go on to perform in bigger presentations down through the years. Their confidence will always stand to them and their many talents will bring much joy to themselves and their parents in the future. We believe very fervently in our motto 'Mol an óige agus tiocfaidh sí.'
At midday on Friday it was the turn of our Naíonáin Shóisearacha agus Shínsearacha. Múinteoirí Jackie Ni Dhuinnín and Síle Ní Laoire had both junior infants classes very well prepared. One class performed 'Reinfhia na Nollag and the other class performed 'An Nollaig i Letterland.' The youngest children in the school won all our hearts with their well rehearsed lines on the tips of their tongue and great credit to the creative parents who provided some fabulous costumes.
Senior infants class were the last pupils on stage in this year's Drama na Nollag, they had a lovely play entitled 'An Late, Late Seo ne mBreagain.' Muinteoir Donna Ni Bhriain clearly enjoyed her class on stage and smiled from start to finish as the young actors and actresses imitated Gay Byrne, Pat Kenny and Ryan Tubridy. It was a beautiful play and was a perfect end to a hectic few days.
Múinteoir Máire Pearóid and Múinteoir Eimear Ni Chionnaith and Cúntóirí Martina, Lesley, Siobhán and Máire are always on hand to give valuable assistance and are very adept at providing props and giving wise words of advice when needed. Principal Dónal O'Murchú was MC on the first night and Síle Ní Ríordain took over the role subsequently.
Dominic De Barra was busy on all occasions and made a fine job of producing a DVD of the concert.
The Parents' Association are very busy as usual. They arranged a raffle and a big 'thank you' to everyone who brought items for the hampers and bought raffle tickets. Our dedicated Parents Association under the Chairmanship of Ms Máire Ui Dhúnlaing leave no stone unturned in their work on behalf of the school and their moral as well as financial support is very much appreciated by Teaching Staff and Board of Management. The Association also donated some hampers to the Sheltered Housing group in Summerhill and a fundraising 'Guess the Number of Sweets in the Jar' event was organised, the proceeds of which will go to The Dogs for Autism Association.
Máire Uí Bhriain made a short speech on both nights, and during the Friday afternoon concert she spoke of the challenging but wonderfully exciting time ahead for the Gaelscoil as we look forward to the expansion of the school to a 16 classroom school.
From very humble beginnings in the Parish Centre in 1985, the school has flourished down through the years due in no small part to its founders and the dedication of its teachers and loyal and supportive parents. Táimid ag súil go dóchasach don todchaí agus gan amhras tiocfaidh borradh agus fás níos laidre ar an nGaelscoil sna mblianta amach romhainn.
Dónal O'Murchú, Priomh-Oide concluded that it's a source of extreme satisfaction to look back on all the events of 2011 and agreed that the success enjoyed by the Gaelscoil is based on the commitment of all those who are involved with the school.