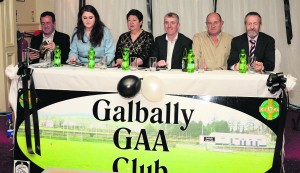 The Galbally Club version of Strictly Fun Dancing turned out to be a fantastic success with a huge attendance at the Aherlow House Hotel on Saturday night last.
And, all those that were lucky enough to secure tickets for the sold out promotion were treated to a feast of talent from start to finish making this very much a night to remember.
Each of the dancers looked fantastic and did them-selves proud with an abundance of talent on display from Galbally and surrounding parishes.
The Right Mood
Master of ceremonies, Willie 'Bun' Ryan got the crowd in just the right mood with his wit and repartee right from the start at an event that represented an outstanding triumph for the hard working organising committee that managed to come up with a programme to cater for all age groups.
Jonathan Scully and Tom Cussen also helped set just the right mood for the occasion with some appropriate upbeat music.
Handing Out The
Plaudits
Galbally GAA Club, overwhelmed with the response to the venture, has this week offered special thanks to all those in attendance for coming out in such great numbers in support of Strictly Fun Dancing.
The club also extended special commendation to the dancers as chairman, Martin Kearney comm-ented, "We were so fortunate to have such committed people dancing for us. It has been a long road for them and they gave generously of their time since the early days of January. Each couple adopted their own unique dance routine and all were hugely entertaining and thoroughly enjoyable."
A Great Teacher
"We must offer our sincere appreciation to Rose Fitzgerald, ably assisted by Siobhán Casey, for her work with the dancers. Rose ensured that everyone was confident and happy with their chosen dance while Siobhán was a huge help, not only to the dancers, but also with the general organisation and advertising of the event. Thanks to Anne Finnan who provided make up for all dancers to ensure they were looking their best. The club also wishes to thank the sponsors. We were fortunate to have so many local businesses assist us and we would encourage you to support them whenever possible," the Galbally GAA Club chairman concluded.