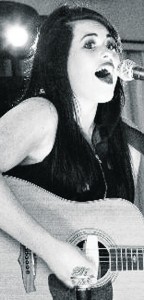 On Sunday evening at 6.30pm on RTE 1 a Glin girl will take the first step to becoming the Voice of Ireland 2015.
Nineteen year old Laura Enright will take the stage in the Blind Audition bidding to be selected by one of the four judges, Niall Breslin, Una Foden, Kian Egan or Rachel Stevens for their team and advance to the next stage of the popular series.
A former pupil at Tarbert Comprehensive School, Laura, who is now a first year student of creative writing at NUIG, will render an acoustic version with guitar of the Outkast hit 'Hey Ya'.
Accomplished both on the guitar and piano, Laura was 15 before she made her first stage appearance and as she said "I have not been off the stage since."
The Glin girl entered the competition "to get my music out there, the more exposure my music gets, the better," she said.
Daughter of Jim and Brenda Enright, Laura has a brother Darragh in Glin and a brother David and sister Aisling in Australia.
Tune in next Sunday evening on RTE1 at 6.30pm and see Laura perform in the Voice of Ireland.