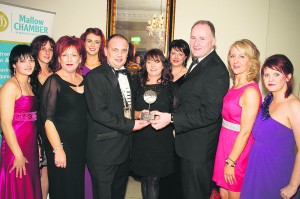 Mallow's best in business were honoured at a gala awards ceremony which took place last Saturday in the fabulous surroundings of Springfort Hall. Celebrating the hard work, commitment and dedication of local businesses, the winners of this year's Mallow Business Awards, unveiled at the annual Mallow Chamber Ball, hailed from all sectors of industry with categories including Best Large/Medium Company, Best Small Company, Best New Business, Best Shop Front Design, Customer Service Award and the Mallow Enterpreneur of the Year.
Hosted and sponsored by the Mallow-based Barry Group and Business Cork, the popular business awards paid tribute to the continued hard work of local businesses that continue to thrive despite the tough economic climate. Jim Barry, Managing Director, Barry Group, praised the nominated finalists and overall winners: "This is the fourth year of the Mallow Business Awards and each year the com-petition gets bigger, better and stronger. There is so much positive work being carried out within the Mallow business comm-unity and it is wonderful to see the hard work, dedication and achieve-ments of our local business people acknowledged. It is these local businesses that will lead the way to economic recovery and, as a business owner in the locality, I am proud to be associated with their commitment to innovation and passion." The black-tie evening began with a drinks reception followed by a sumptuous dinner before the overall winners in each category were announced.
Taking home the award for Best Large/Medium Company was TR Southern Fasteners, a company that supplies industrial fasteners to a wide variety of industries including elec-tronics, medical equipment, domestic appliances and farm machinery. Estab-lished in Mallow in 1973, TR Southern Fasteners takes enormous pride in the fact that some of its employees have been with the company for more than 25 years and through its exceptional service, sup-port and customer loyalty, the business has seen a 30 per cent growth over the past two years. Winner of Best Small Company was Stunners Hair Salon, a local salon that has been in business in Mallow for over 15 years. Highlighted as a key ingredient in the salon's ongoing success was its five-star customer service, determination and development. In the Best New Business category, Thermosafe Brands Europe Ltd. was voted overall winner. As European headquarters of the global brand, and Ireland's only provider of Temperature Assurance Packaging, Thermosafe was credited for its innovation in design and manufacturing of temperature assurance and temperature testing products and services. The prestigious Mallow Enterpreneur of the Year Award went to Matt Taylor of Food Capers. Together with his wife Breda, Matt was celebrated for his tireless work at maintaining exceptional customer service standards, valuing each and every customer that walks through the shop door.
 This year's Mallow Business Awards also gave the people of Mallow a chance to vote for their favourite store, and winning the prestigious Customer Service Award was Dano's, Spa Glen. Operated by Donal O'Mah-ony and founded in 1989, Dano's Centra has 40 employees, all of whom are totally focused on providing excellent quality service to their customers. Evidence of this commit-ment can be seen in the awarding of the Excellence Ireland Hygiene Award.
Rounding off this year's award winners was fashion boutique Moda Mallow, which was voted Best Shop Front Design/Décor. Synonymous with the ladies of Mallow town and surrounding area, not only is Moda Mallow always at the cutting edge of fashion, their fabulous shop front is often also the talk of the town! Adding to the glamour on the night was RSVP magazine's 'Most Glamorous Lady' com-petition. The competition was hotly contested, but Dara Horgan was eventually selected as overall winner, winning a stunning piece of jewellery kindly sponsored by Michel Jewellers, and the Edge Hair Salon. On a more poignant note, Mallow Chamber paid tribute to the late Pat Owens, whose son Darren accepted the Lifetime Achievement Award on his behalf. Pat was owner of the Hibernian Hotel and a much-loved character, confidant and friend in the area. A Mallow man born and bred, his passing has brought much sadness to the Mallow community and his friendship will be greatly missed. This year's awards were attended by Minister Seán Sherlock, Jim Barry, Managing Director Barry Group, Pat O'Sullivan, Mallow Cham-ber President, and Michael Mulcahy, Business Cork magazine, as well as previous winners and members of Mallow Chamber and local business representatives.