Clyda Rovers……………………………………………………………………..2-12
Mallow…………………………………………………………………………….…2-5
Derek O'Brien was certainly the hero for Clyda Rovers at Killavullen on Saturday evening last when goals either side of the break helped the Mourneabbey outfit overcome Mallow in the Co. Premier IFC replay before another large attendance.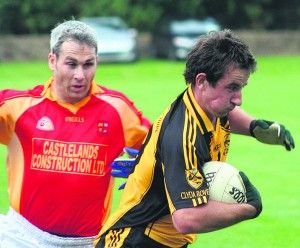 Early exchanges were again very close. Mallow opened the scoring through Eoin Murphy with Conor Flanagan levelling when he pointed a free after a foul on Padraig O'Mullane.
Clyda edged ahead again with a point with Cian O'Riordan dispossessing Conor Flanagan and soloing through for a great point. Further Mallow pressure saw Donal Relihan have a good attempt saved by Cian Conway. Cian O'Riordan with a pointed free edged Mallow ahead. Mallow moved Donal Relihan as a third midfielder. Clyda had a wide before Conor Flanagan, Cian O'Sullivan, Gavin Carey were all involved putting Derek O'Brien through for a goal after 17 minutes. Both sides had wides with James Murphy kicking an excellent pointed free, 1-3 to 0-3. Cian O'Sullivan came very much into the play for Clyda winning some very good ball on the wing. He was denied a point when Kevin O'Halloran made a vital block but Padraig O'Mullane was on hand to point from the break. Clyda continued to make good runs but it was Mallow who had a goal by Donal Relihan after a quick free by Cian O'Riordan. On the stroke of half time O'Riordan levelled for Mallow with an excellent point to leave it 1-4 each at the interval.
Rovers had two points on the resumption by James Murphy. Mallow's Denis Hayes made a great run from the 40 and was brought down and a penalty awarded. Cian O'Riordan with a goal from the penalty edged Mallow ahead 2-4 to 1- 6 after just 6 minutes. From here on Clyda Rovers took control. They held Mallow to just a single point in the last 24 minutes. The Mourneabbey side were quick to regain the lead when Niall O'Mullane, Fionn O'Shea, Ollie O'Hanlon, Conor Flanagan and James Murphy were all involved in setting up Derek O'Brien for his second goal, 2-6 to 2- 4. Mallow had a number of wides and it was Clyda Rovers who saw out the game in a very positive manner. Impressive Ollie O'Hanlon put James Murphy through for a point with Colman Lane making it 2-8 to 2- 4 after 43 minutes play. The Rovers kept picking off their points with Gavin Carey opening up a five point lead at the end of the third quarter. Good work by Fionn O'Shea led to a great Cian O'Sullivan score with Kenneth Fitzgerald surging forward to punch a fine effort, 2- 11 to 2- 4. Hurl Dockery had Mallow's only point of the second half but it was Clyda Rovers who completed the scoring with a fine point by Maurice O'Brien. It was a very disappointing display by Mallow while Clyda Rovers now progress to this Saturday evening's quarter final with Macroom in Donoughmore.
Scorers for Clyda Rovers: Derek O'Brien 2-0, James Murphy 0-4, Conor Flanagan 0-2 (frees), Padraig O'Mullane 0-1, Maurice O'Brien 0-1, Kenneth Fitzgerald 0-1, Gavin Carey 0-1, Cian O'Sullivan 0-1, Colman Lane 0-1.
Mallow: Cian O'Riordan 1-3 (1-0 pen, 0-1 free), Donal Relihan 1-0, Eoin Murphy 0-1, Hurl Dockery 0-1.
Clyda Rovers Cian Conway, Niall O'Mullane, Ray Carey, Chris Kenny, Maurice O'Brien, Ollie O'Hanlon, Kenneth Fitzgerald, Paudie Kissane, Fionn O'Shea, Conor Flanagan, Padraig O'Mullane, Gavin Carey, Cian O'Sullivan, Derek O'Brien, James Murphy. Subs Colman Lane for Padraig O'Mullane, Damian Quirke for Maurice O'Brien, Maurice O'Brien for Kenneth Fitzgerald
Mallow Cormac Quilligan, Michael Murphy, Kevin O'Halloran, Jerry Hayes, Luke Dockery, Clive Kerrisk, Diarmuid Kerrisk, Eoin Stanton, Hurl Dockery, Cian O'Riordan, Kevin Sheehan, Eoin Murphy, Joseph Hayes, Denis Hayes, Donal Relihan. Subs Mark Roche for Diarmuid Kerrisk, Kevin McCarthy for Joseph Hayes, Noel Dinan for Mark Roche, Colin Stanton for Eoin Murphy
Referee Denis O'Leary (Watergrasshill)