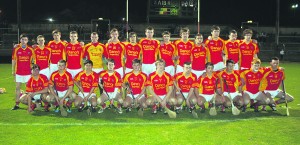 BLACKROCK………………………………………….……………..4-18
MALLOW………………………………………………………….… 0-15
Four goals in the last quarter helped turn this Rebel Og County Premier Minor Hurling Championship (1) final in Blackrock's favour when they defeated Mallow at Pairc Ui Rinn on Monday night last before a large attendance.
In a strange game Mallow had the upper hand for most of the first half but on the changeover they never reached the heights they displayed during the first period adding just three more points to their first half tally while it was the complete opposite for the 'Rockies as they set the tone for the second half. Inspired by Stephen Murphy at midfield and helped by two goals apiece by Joe Logue and Alan Nolan they sealed the issue long before the final whistle. The opening stages saw both teams quick off the mark with Sean Hayes and David King having a point each for their respective teams by the 4th minute. At this stage Mallow were showing the greater urgency and teamwork with Killian O'Connor, Pa Herlihy, Aaron Sheehan, Podge Buckley, Pat Healy, Ryan Harkin and Sean Hayes making inroads and by the 8th minute three points on the trot moved them into a 0-4 to 0-1 advantage. Blackrock quickly got up to the required pace with Stephen Murphy pointing a long range free. From the puckout Ryan Dineen gathered possession to narrow the deficit to the minimum 0-4 to 0-3. Exchanges were close enough for a while with Pa Herlihy and Callum Crowe trading a quick point before Mallow struck a purple patch once again, gaining the upper hand in the key half back line sector where Daniel Sheehan, Pat Healy and Ronan Mills held their lines well while in attack Pa Herlihy, Aaron Sheehan, Ryan Harkin and Sean Hayes continued to look very dangerous when in possession, Aaron Sheehan added a point from play and a free while a long range effort by Ryan Harkin put Mallow into a good position when leading by double scores after 18 minutes, 0-8 to 0-4. For the rest of the half Blackrock inspired by Stephen, Murphy at midfield, imposed themselves on proceedings. However Mallow were still able to maintain a four point cushion until two late scores by David King (free) and Ryan Dineen brought the reigning champions within touching distance of their opponents, trailing by just 0-12 to 0-10 at the interval.
On the changeover another close half was anticipated but in truth it never materliased with Blackrock very much the better team from the offset. In a low scoring third quarter just one score was registered when Alan O'Callaghan pointed in the 32nd minute. The Blackrock forwards were in regular supply at this stage but a solid Mallow full back line of Jack O'Hanlon, Killian O'Connor and Alec Luttrell held firm with O'Hanlon denying Ian O'Keeffe a goal scoring opportunity when he made a vital interception in the 42nd minute. The sides were level four minutes later when Ian O'Keeffe pointed with Mallow regaining the lead soon after when Aaron Sheehan pointed 0-13 to 0-12. Despite Mallow finding it hard to make inroads they were still in with a great chance of clinching the title. However in the last quarter the winners upped their efforts considerably with Eoin McCarthy, Jamie Ryan, Alan O'Callaghan, Niall Cashman, Stephen Murphy, Ian O'Keeffe, Cathal Cormack, Callum Crowe, Joe Logue and substitute Alan Nolan playing key roles in their sides victory. In the 48th minute they got through for the first of their four goals when a long delivery by Stephen Murphy was finished to the net by Joe Logue. Mallow threw caution to the wind from here but it was the winners that stretched their advantage further when Murphy and Logue combined well to set up Alan Nolan for a well taken goal. It was all the Rockies in the last ten minutes with Joe Logue and Alan Nolan breaching the Mallow backline for a goal each while Alan Nolan, Ryan Dineen, Callum Crowe, Stephen Murphy added six points between them before the final whistle, Mallow, to their credit, who were firmly in the hunt till the three quarters stage, battled to the end with key players Aaron Sheehan and Pa Herlihy having late points but there was no denying Blackrock victory on the manner of their second half performance.
Scorers for Blackrock : Alan Nolan 2-2, Joe Logue 2-0, Stephen Murphy 0-5
(0-3f, 0-1 '65') Ryan Dineen 0-3, Callum Crowe 0-3, David King 0-2f, Ian O'Keeffe 0-2, Alan O'Callaghan 0-1,
Mallow: Aaron Sheehan 0-6 (0-4f), Pa Herlihy 0-4, Sean Hayes 0-3 (0-1f), Ryan Harkin 0-2.
Blackrock: Gavin Connolly; Paul Redmond, Andrew Murphy, Eoin McCarthy; Jamie Ryan, Alan O'Callaghan, Niall Cashman; Stephen Murphy, Daniel Meaney; Ryan Dineen, Ian O'Keeffe, Cathal Cormack; Callum Crowe, Joe Logue, David King.
Subs Alan Nolan for David King, Fiachra De Faoite for Ian O'Keeffe (inj)
Mallow Padraig Buckley; Alec Luttrell, Killian O'Connor, Jack O'Hanlon; Daniel Sheehan, Pat Healy, Ronan Mills; Jack Murphy, Podge Buckley; Aaron Sheehan, Ryan Harkin, Pa Herlihy; David Sheehan, Sean Hayes, Scott Walmsley,
Subs Michael O'Rourke for David Sheehan, John Cosgrove for Ronan Mills,
Referee Ger O'Connell (Lisgoold)