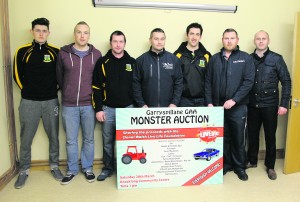 The familiar sound of going, going, gone will ring out later this month at a fundraising auction in Knocklong Community Centre.
Garryspillane G.A.A. in conjunction with the Donal Walsh Live Life Foundation are hosting a monster fundraising auction that will see up to a couple of hundred items go under the hammer on Saturday March 28th at 1pm.
Present at the launch of the event recently were officers and members of Garryspillane G,A.A. along with Andrew Walsh, uncle of Donal and his mother Mary Walsh, grandmother of Donal, Limerick manger TJ Ryan and Limerick hurler James Ryan
Club official David Ryan spoke of the new finance committee that was set up in 2014 and how it looked at new ways of fundraising and involving the community in the local club. A club player and team mentor Micheal O Donnell brought the idea of a monster auction from a club in Cavan and it was something that suited the Garryspillane set up with the added bonus of benefitting the Donal Walsh Live Life Foundation which has strong local links," he revealed.
Over 100 items have already been donated for auction and any further items can be donated by contacting any of the committee before the day of the auction.
Among the items donated for auction so far are an '02 Ford Mondeo, '04 Nissan Primera, pallets of animal feed, top quality animal dosing, dog food, bales of hay and silage, farm machinery, silage plastic and net, a range of furniture items, vouchers, coal, trailers of firewood, turf, a night's entertainment with Jimmy Buckley, a D.J.'s night's entertainment and lots more.
This is a not to be missed sale of a range of top qua-lity goods and everything must be sold on the day with the proceeds going to Garryspillane G.A.A. and the Donal Walsh Live Life Foundation.