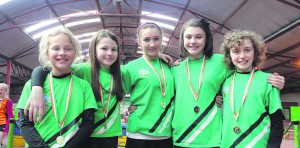 Sunday last, 1st April, may have been April Fools Day but there were no fools at Nenagh Indoor Stadium where the All Ireland Relay Championships were held with an average of 16 teams in each age group which led to a very busy day. Liscarroll had two teams entered, one at U13 and one at U14.
The first race of the day was girls U13 which meant that our girls were called on early. There were four heats with only the four fastest getting through to the final. Liscarroll's team started with Sarah Reidy who was out of the blocks like a rocket. By the time she got to Lauren O'Leary she had gained on the others with a flying baton pass. Lauren was in top gear around the second bend to extend the lead further. Again there was another super exchange of the baton as she passed to Sarah O'Keeffe, who is not long with the club but ran as if she was part of the team forever. Then after another smooth changeover Vickie Cusack was away in a canter to win the heat in a record breaking time of 55.48 seconds. The previous record had been held by Dooneen AC since 2004. They had to wait for almost 2 hours before the final but the backroom team of Annette, Barry and Joe kept them fired up and ready for action. As they lined up for the final tensions were high among our supporters but our runners were psyched up and showed no signs of stress. It was now a case of all or nothing.
Running in the same order as in the heat everything went flawless with Sarah, Lauren, Sarah and Vickie running out of their skins as they came out on top to win the gold in another record time of 55.29 seconds beating the home team, Nenagh, into second place as they were cheered on by everyone from Cork. It was one of the greatest team efforts in a long, long time. It was an occasion of joy and high emotions for both athletes and followers.
The U14 team of Kate Ivory, Vickie Cusack, Anna Walsh and Heather Barrett have been knocking on the door for a few years now, but for one reason or another were not lucky in the medal stakes. This time they were running a different type of race, 4 x 200m instead of 4 x 100m. The team lined up as above with Kate Ivory setting the pace over 200m at top speed, quick baton pass to Vickie Cusack who stretched the lead further and on to Anna Walsh, who improves with each race, and she held the lead all the way to Heather Barrett who had to use all her experience to win the heat in 1.59.94, which was the second fastest time to qualify for the final. They lined up against very strong opposition in DSD Dublin, Lios Tuathail and Greystone, Dublin over 4 x 200m for the second time, a distance that they were not used to. They did not flinch from the task as they headed off for a second battle. Kate Ivory again had a perfect start to give Vickie Cusack a chance to take the lead, but there was no give, they were in second place as Anna Walsh legged it around the track to Heather Barrett who had to battle hard to hold off Lios Tuathail in a terrific race. For pure determination they deserved the silver medals by turning the tables on the Lios Tuathail girls in a time of 1.55.67.
This day will be remembered as a perfect finish to the first quarter of a very competitive 2012. We must also thank Shauna Linehan who was the fifth member of the U13 team who travelled at short notice. Well done to all concerned.
On Saturday March 31st Jodie Cusack made a big impression in the 1500m on the track, which was done at a very fast pace. The pace was so fast that Jodie knocked approximately 2 minutes off the time she set in the Munster Championships. She was not in the medals. Her time was an excellent 8.56.02 and if she keeps this up she will do well in the upcoming County and Munster Championships. Well done on a great performance.