Walk/cycle from Barnagh tunnel to Ardagh for Stonecrushing Exhibition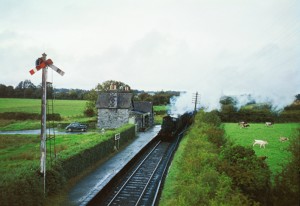 Heritage Sunday August 26th promises to be a very busy one on the Great Southern Trail [GST] with a number of interconnected events taking place. Firstly, at 2pm there will be a guided tour of the 132 year old Barnagh Tunnel [parking on the N21 lay-by 4 miles west of Newcastle West]. Following this, at 3pm, a 13km [8 miles] walk/cycle along the old railway to Ardagh will set out from Barnagh lay-by. This is a very easy down-hill route and a welcome cupán tae with Joan Molyneaux's famous homemade scones will be awaiting at Ardagh Community Hall from 5pm. Meanwhile, outside the hall there will be a demonstration from 5pm to 6.30pm of stonecrushing by vintage machines powered by similarly ancient tractors; some venerable trucks being also present. This event has been organised by the West Limerick Vintage Club whose participation is greatly appreciated by the GST. Inside the Community Hall, at 5.30pm, Dr. Pat O'Connor, Geographer, Author and Poet who has recently retired from U.L.will launch the newly published guide to the GST Co. Limerick section of the Greenway. This gives comprehensive information on the 37km route. Finally, at 6.30pm Coach House Travel will provide comp-limentary return transport to Barnagh lay-by for all walkers requiring same. Beidh fáilte roimh gach éinne ar an lá.
This coming weekend 25th and 26th August the Annual Churchgate Collection for the GST will take place in Newcastle West. These monies are always necessary to enable payments of insurance, licence fees to CIE for use of the line, organisation of events, "matching funding" towards government/EU grants etc as well as for routine maintenance. Mar sin, bígí flaithiúil!