---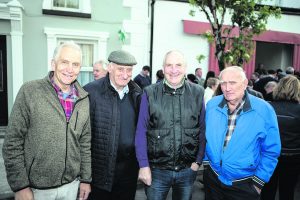 The shadows of history hung heavily in the May air as the Lampróg Theatre Group and County Limerick Youth Theatre teamed up with local actors and community volunteers in Galbally on Tuesday night last to present a spectacular re-enactment of the Rescue of Seán Hogan from Knocklong Railway Station on the 13th of May 1919.
This represented a truly outstanding production by the actors under the baton of the esteemed director, Fiona Quinn.
It was a credit too to Galbally Community Council and other volunteers who facilitated the event.
The main plaudits must, however, go to local historian, Tim Ryan, who was the instigator in chief of the major event, which attracted hundreds of people to the village.
A direct link
Tim has, of course, a direct link to the Knocklong rescue through his late uncle, War of Independence Volunteer, Jimmy Scanlan.
The fact that many of the scenes were staged in actual buildings where history was made during the Troubles added a chillingly authentic air to a magnificent production.
Fascinating trip
The audiences were taken on a fascinating trip back into the past as the story unfolded at various locations in the village including Galbally Community Centre, the Men's Shed, Billy Bourke's house (former RIC barracks), the old Galbally Post Office, Hedigan's Slaughter House, the village Square and, finally, at the community centre yard, where the rescue of Seán Hogan from the Dublin – Cork train was re-enacted to sustained applause, as the outstanding production drew to a close with darkness falling over Galbally.
Tracing the escape route
The week long commemorative events continue on this Thursday evening 16th May at 6.30pm with 'The Escape': Promenade theatre retracing the actual escape route from Knocklong to Glenlara. (Bring your walking shoes but no dogs, it will be one way only, through the fields)
Later on this Thursday night there will be 'Songs from the Struggle' with Dermot Carroll at the Hill Bar, Knocklong from 9pm.
Full programme details
For more information on the full programme for Friday, Saturday and Sunday log on www.knocklong.net www. facebook.com/ KnocklongHistory.