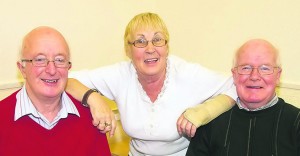 Positive Ageing events took place in East Limerick with support from local volunteers, Hospital Family Resource Centre, Ballyhoura Development, Rural Bus and Age Action Ireland. Over 100 people attended events in Galbally, Hospital and Kilteely/Dromkeen, with music, refreshments, dancing, cards and guest speakers; these activities were organised to highlight the positive aspects of ageing and celebrate the contribution older people have made and continue to make to their communities. Support for older people is ongoing in different communities across East Limerick, as follows:
Galbally Group: 3rd Tuesday of every month at the Community Centre Galbally from 2pm to 4.30pm.
Hospital Group: 1st Tuesday of every month at the Hospital Family Resource Centre from 2pm to 4.30pm.
Kilteely/Dromkeen Group: 4th Wednesday of every month at Cill Bhride from 8pm to 10pm.
For more information contact the Hospital Family Resource Centre on 061 383884