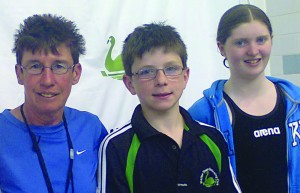 Mallow Swans Swimming Club was represented last weekend at the Irish Age Group Division 1 Champion-ships, an All Ireland competition for Junior Swimmers held in University of Limerick .
Mark Walsh competed in the Boys 14 and under category and received a silver medal in the 1500m Freestyle event, was placed 4th in the 400m Freestyle, 100m Freestyle and 5th in the finals of the 200m Butterfly, 100m Butterfly and 200m Freestyle events. Swimming in impressive form, Mark also secured Personal Best times in all events.
Sarah Crowley competed in the Girls 14 and under category notably achieving 4th position in both the 200m and 100m Breastroke events. She was placed 7th in the 200m Individual Medley event and 12th in the 100m Freestyle event where she was also 2nd reserve for the Final. Finally, Sarah swam in a closely fought contest to secure 15th of 51 swimmers in the 200m Freestyle.
Cadan McCarthy, in the Boys 12 and under category, Swimming in the 200m Butterfly event where he was placed 4th. He was placed 6th in the 100m Butterfly, 12th in the 200m Freestyle event being 2nd reserve for the Final and 14th in both the 100m and 400m Freestyle events. Cadan also secured Personal Best times in these events.
Overall, Mark, Sarah and Cadan had a great weekend and would like to express special thanks to their squad coaches. Deirdre Lenihan, one of the squad coaches, was really pleased with the junior swimmers' efforts.
This competition marks the culmination of Mallow Swans' efforts this year where the club had another very successful year. Congratulations to all who took part in various Galas, achieved Personal Bests and had Squad Upgrades since last September.