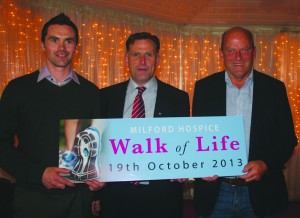 Former Clare hurling manager Ger Loughnane was in Adare last week for the official launch of the Walk of Life, a major fundraising initiative in aid of Milford Hospice.
The launch was attended by representatives of many of the G.A.A. clubs in Limerick, county team managers, Robert Frost, Chairman of the Munster council and senior members of Limerick County Board.
On launching the event, Ger Loughnane spoke about Ireland being in need of community spirit more than ever. He said, "As a society we have seen what the last few years have done to our country and it's high time people rekindled the spirit of community, before the fabric of what made Ireland great is lost." The two-time All-Ireland winning coach and current 'Sunday Game' analyst continued: "Over the past few years we have seen the destruction that has taken place and rural Ireland is suffering greatly. That will continue unless people stand up, work together and are unified with a common purpose."
Mr. Loughnane also spoke about the vulnerability of life, having himself overcome a major cancer scare over the past year and a half. "It's not until a life-threatening illness visits your door that you fully comprehend the value of life and how vulnerable it can be. I myself had to deal with that and in so many ways it refocuses what's most important."
Mr. Loughnane urged the people of the Midwest region not to take for granted what they have on their doorstep. "Milford Hospice is an outstanding facility serving the people of the Midwest selflessly, and with such generosity of spirit towards those with terminal illness. We live in difficult times, but such difficulties pale into insignificance when families are faced with a life-threatening disease. I am 100% behind the Walk of Life and this is an opportunity for the people of the Midwest region to say thank you to Milford Hospice."
Speaking at the launch, Pat Quinlan, C.E.O, Milford Hospice described its mission "Today, the focus of our mission in Milford is to ensure the continuance of a philosophy of delivering patient centred palliative care of the highest quality. As a service provider, we also focus on supporting family members right into bereavement. We are now the recognised specialist service for palliative care for the Mid West" he said.
The Walk of Life was conceived by RTE broad-caster Martin Kiely, and has received a huge response from all parts of the Midwest region. Mr. Kiely said: "I've always greatly appreciated the efforts of Milford Hospice and I felt the time was right to have a substantial coordinated effort to raise significant funds for Milford Hospice. The people of Limerick and the Midwest region have responded and we have teams in place in every parish to facilitate the fundraising initiative. There will be five clustered 5km walks in Limerick on 19th October, and there will also be a business breakfast in Limerick on 9th September, which will be addressed by the Minister of Finance, Michael Noonan."
The five walks will take place simultaneously at 12 noon on October 19th at the University of Limerick, Kilfinane, Newcastle West, Murroe and Curragh Chase.
Speaking at the launch, Martin Kiely said: "Milford Hospice is a place we all know about. It's a place nobody wants to go to, but thousands of families in the Midwest region have been comforted there during the lowest point in their lives.
Anybody wishing to volunteer to help for what is quickly becoming one of the leading fundraising events in the Mid-West can go on line at www.walkoflife.ie or by contacting your local parish representative.