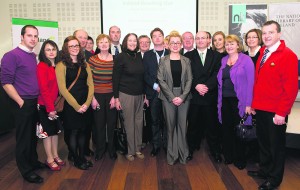 Last Wednesday, parish representatives from across Ballyhoura Country travelled to Dublin to take part in the National Launch of Ireland Reaching Out by An Taoiseach Enda Kenny.
Representatives from Lough Gur, Knockainey, Bruff, Kilbehenny, Murroe, Mitchelstown and Kildorrery formed part of the 100 strong audience at the launch of the Ireland Reaching Out project in the National Library in Dublin
The Ireland XO project is based on a simple idea; instead of waiting for Irish-Americans and their global counterparts to come to Ireland to trace their roots, we go the other way. Working through voluntary effort at a townland, village and parish level, we identify who left, and trace them and their descendants worldwide, proactively engaging with them and inviting them to become part of an extended "virtual" community with their place of origin. In this way, the entire Irish Diaspora of 70 million can be systematically reunified online and invited back to engage with their ancestral parish for the benefit of all.
The project now has over 200 parishes involved nationwide. Through the Ireland XO project, local communities are identifying, inviting, and welcoming back members of the Irish Diaspora throughout the year, establishing what are hoped to be lifelong enduring connections and relationships between members of the parish Diaspora and the parish communities of their ancestors. The benefits to local communities are very considerable, opening up new economic opportunity, resources and international networks, and energising communities at home.
Speaking of the project, An Taoiseach said that "From its beginnings as a pilot project in South East Galway, Ireland Reaching Out has shown how 'reverse genealogy' can engage the Diaspora to bring real social and economic benefits down to parish level. "
While Ireland XO parish volunteers are reaching out around the world, the project's website www.irelandxo.com provides a landing point in Ireland for people abroad who have some detail about where their emigrant ancestors come from in Ireland. By joining any parish community online, they can seek direct genealogical research assistance from local people in the area who also volunteer to meet them on their return. This "Meet/Greet/Connect" offer from parish communities across Ireland has been identified as a missing element from developing the Irish Diaspora in times past.  The Ireland XO project is enabled today by the harnessing of the best of modern communications and internet technology, combined with the simple welcome and hospitality for which Ireland is known and celebrated worldwide.
Amanda Slattery, Tourism and Heritage Officer with Ballyhoura Development, encourages people and communities from across Ballyhoura Country to get involved and get active and for further information on the project contact Amanda on 063-91741 or email aslattery@ballyhoura.org