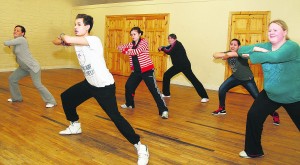 Young people from Mallow took part in the local heat of the Irish Youth Music Awards (IYMAs) in Fermoy last Thursday during the mid-term break.  The talent that was shown on the day was only incredible.  Each act had to write an original song and perform it on the day.  Shannon Murphy, who won the Mallow heat this year, won best song. The best act on the day were 'Exit Fire' from Fermoy who will represent CDYS in Dublin in the n,ational competition.  We would like to wish them the best of luck and congratulate all the acts who took part in the event.  Well done to everyone!
Teenage Dreamers
One of CDYS Mallow's newest youth groups 'Teenage Dreamers', recently started taking their health into their own hands by going on a healthy eating and fitness programme. These young girls have started to make healthy informed decisions around the food they are eating while also taking dance lessons provided by Mallow's own Ayman Scuffins to improve their fitness.
Youth worker Nicola Whelan said, "It is very impressive to see young girls making such positive informed decisions that will make an impact in their health. The group is going from strength to strength."
CDYS Bingo
The CDYS Bingo continues this Sunday night with the jackpot heading to €1,550. With such great prizes to be won there has never been a better time to get yourself along to Mallow Community Youth Centre. Doors open at 7:30pm.