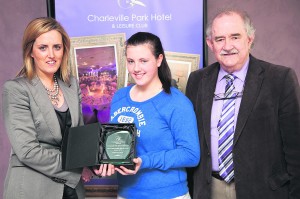 Churchtown girl Isabel O'Leary has been named as the Charleville Park Hotel and Leisure Club and Vale/Mallow Star North Cork Sports Star of the Month for January.
It was a momentous month for 13 year old Isabel, who was selected to represent Ireland at skiing as a child compe-titor in Andorra in the prestigious international underage competition, the Borrufa Cup.
Isabel, whose elder sister Claire is equally accomplished in the sport, was born in Ireland and the family moved to Germany when she was just 13 months old. She took up the sport at only three years old and started skiing on the local slopes. "She was talented and was a quick learner," explained her mother Christine when Isabel was presented with the January award at Charleville Park Hotel last Friday evening.
Isabel was five when she joined the local racing club and started competing in local competitions. The family returned to Ireland in 2007.
For Isabel, who is a member of the Ski Club of Ireland, the only club in the country and based in Dublin, the pursuit of her chosen sport involves an extraordinary level of commitment and dedi-cation. Mum Christine and the girls set off from Churchtown every Sun-day morning almost all the year round for a 9am three hour training session at Kilternan in Dublin with her own coach. For experience on snow Isabel has to travel abroad regularly mainly to France Austria and Germany.
To qualify for Andorra she had to reach a very high qualifying standard in race results abroad and to do that she went racing last year in France and Switzerland,
Isabel will remain as child competitor in the sport for the next three years before obtaining her international ski licence with the aim of qualifying first for the Junior Winter Olympics and ultimately the full Olympics.
Charleville Park Hotel and Leisure Club and the Vale/Mallow Star have joined forces in recogni-sing achievement in sports. The sports award will reflect the very high levels of success now being achieved by local men and women in all sporting disciplines.
A winner will be named each month and will be awarded with a specially engraved plague and six months free membership of Charleville Park Hotel Leisure Club. In January 2013, an overall winner will be selected from the twelve monthly winners at an awards ceremony in Charleville Park Hotel and Leisure Club and named North Cork Sports Person of the Year and will receive a family membership, a holiday voucher to the value of €500 and a perpetual trophy.